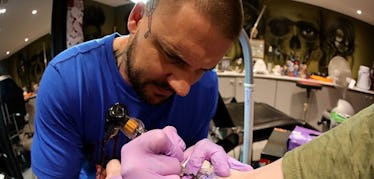 People Are Getting This Tattoo In Support Of Manchester Victims
Christopher Furlong/Staff/Getty Images
After the horrific attack in Manchester last week, people across the UK — including Liverpool, Hull, Bath, Kent, and of course, Manchester — have decided to show their support for victims with a little ink.
Many waited in line for hours to have the Manchester symbol, the working bee, permanently etched on their skin for a good cause.
During the initiative, known as the Manchester Tattoo Appeal, and artists generously volunteered their time for the cause.
The cost was £50 per tattoo and all proceeds go toward the victims and their families. Sam Barber, the organizer behind the event, had a goal of £50,000 which he will most likely exceed, according to BuzzFeed.
Elite Daily has reached out to Barber, but did not hear back by the time of publication.
The bee is meant to symbolize the city's growth during the Industrial Revolution, and now, it is a way to unite people against terror.
The gruesome attack took the lives of 22 people, including 8-year-old Saffie Rose Roussos, 18-year-old Georgina Callander, 26-year-old John Atkinson, among others.
Celebrities have united to show their love for Ariana Grande and the victims of the attacks. Harry Styles phoned 14-year-old Freya Lewis who attended the show with her friend, Nell Jones. Jones unfortunately lost her life in the attack.
Miley Cyrus dedicated her Voice performance to Ariana and the victims, saying, "I'd like to dedicate this song to my good friend Ariana Grande and everyone who experienced that horrific attack yesterday. Our hearts are with you."
Katy Perry followed suit with her own emotional performance. She said to the crowd, "We're all listening to the same music. And you think about it and think that's my friend, that's my sister, that's my cousin, that's my brother. It's awful."
Ariana is returning for a benefit concert and will reportedly donate to funeral costs for the victims.
Everyone is banning together to show evil that it cannot — and will not — win.
Citations: Hundreds Of People Are Getting This Tattoo To Remember Victims Of The Manchester Attack (BuzzFeed)