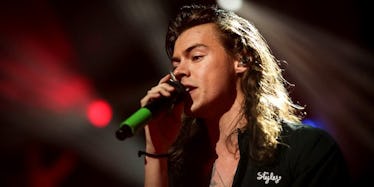 Harry Styles Surprised A 14-Year-Old Victim In The Manchester Bombing With A Phone Call
Getty Images
Harry Styles made one Manchester bombing victim's day a little brighter by giving her a surprise phone call as she lay in the hospital, recovering from injuries she sustained during the attack.
14-year-old Freya Lewis had attended the Ariana Grande concert with her friend Nell Jones, who was killed in the bombing.
Lewis has been in the hospital since the tragic night, suffering from lacerations, fractures and burns, according to Manchester Evening News,
Her sister, Georgia Lewis, had the idea to summon Harry Styles.
Georgia created a Facebook post and encouraged people to tag the former One Directioner.
She wrote in the post,
As I'm pretty sure most of you know my sister is the biggest Harry Styles fan I'm pretty sure in the world. All she does every second of every day is talk about how much she loves him... I don't expect this to work but if this post is shared enough times we can see if we can get Harry's attention.
Her plan so worked!
Freya was resting when the pop star called her room for a brief chat. Her parents wrote about the experience on a blog site, where they have been documenting her recovery.
They wrote,
The phone rang, and it was Harry Styles. Freya woke up, Harry said he loved her, she said she loved him, then Dad said he loved him!! The PICU unit at Manchester Childrens Hospital has just been given a lift like you can not imagine! Harry, we salute you sir, Holmes Chapel is very proud of you!!!!
Georgia also shared her excitement on social media.
She admitted that she is now also a Harry Styles fan.
Styles had previously expressed his feelings about the Manchester bombing on Twitter.
He also held a moment of silence for victims during a Mexico concert.
Styles said in a short speech,
I went to my first show in the arena, and I've had some of the best experiences of my life playing in Manchester. We have a choice, every single day that we wake up, of what we can put into the world, and I ask you to please choose love every single day.
Clearly, he backs his words up with action.
Him deciding to spread love by calling little Freya Lewis did more than make her day; it's something she will likely remember forever.
Kudos to Harry Styles for bringing the sunshine!