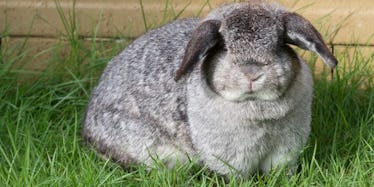 Gigantic Rabbit Mysteriously Dies On United Airlines Flight To O'Hare Airport
Shutterstock
United Airlines might want to consider a brief hiatus.
The drama continues for United (and again in Chicago) after the would-be world's largest rabbit died on his way to O'Hare on April 24.
It's as if some strange curse has been placed over the Chicago area, so perhaps it's best to avoid incoming and outbound flights from the Chicago airport for the time being (just sayin').
Strange curses aside, United Airlines (regardless of location) has certainly run us through a gamut of emotions over the past few weeks.
We were filled with rage upon discovering a 69-year-old physician, David Dao, being violently dragged off his flight from O'Hare. The viral video left us all in shock.
Then, we couldn't believe a couple en route to their destination wedding had been kicked off their flight. Who would have thought that moving to unoccupied seats would cause another controversy?
Earlier this week, a cop revealed his account of Dao's story — one that seemed quite different from the viral video.
Oh, let's not forget the teen passengers who were stopped from boarding for wearing leggings. Yikes.
Now, we are mourning the loss of a seemingly healthy animal who was taken from us with no explanation why.
According to TMZ, breeder Annette Edwards was sending the fur ball to his new home — a new celebrity owner — from Heathrow in London to O'Hare when the heartbreak occurred.
She sells the rabbits for roughly $600, and it takes about $6,000 to raise them.
Our deceased 10-month-old bun, Simon, was on track to outweigh his father, the world's largest bunny at over 4 feet.
Apparently, Simon was found dead in the plane's cargo holding upon landing in Chicago. Our hearts are certainly breaking thinking of the situation.
We can't take another upsetting situation, just as United cannot take another PR woe.
According to USA Today, the airline released a statement saying,
We are saddened to hear this news. The safety and well being of all animals that travel with us is of the utmost importance to United Airlines and our PetSafe team.
Let's hope the chaos ends soon.
RIP Simon. Our thoughts are with you and your world's-largest-bunny father.
Citations: UNITED AIRLINES WOULD-BE WORLD'S BIGGEST RABBIT DIES Onboard Flight to U.S. (TMZ), Mystery as world's-biggest-rabbit contender dies on United Airlines flight to O'Hare (USA Today)