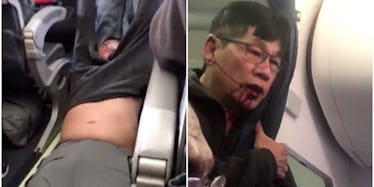 Cop Who Dragged Man Off United Flight Says He Was 'Flailing And Fighting'
Facebook/Twitter
The country watched in horror as a physician was dragged off a United Airlines flight leaving Chicago's O'Hare International Airport on April 9.
David Dao refused to give up his seat and ended up bloodied with sustained injuries from the entire ordeal.
United Airlines subsequently released a statement about the incident, and Dao's daughter spoke up about her father's treatment.
The airline could possibly face a lawsuit from the 69-year-old passenger.
Now, we're hearing the story from another side — one that doesn't paint Dao as a victim.
On Monday, the Chicago Department of Aviation released the police officer's report in response to a Freedom of Information Act request by The Associated Press.
James Long, the officer who dragged Dao off the plane, told his side of the story because he faced losing his job.
According to Cosmopolitan, Long said Dao was "verbally and physically abusive" before being taken off the plane.
United said four passengers had to be removed from the aircraft in order to make room for airline employees who were scheduled to fly to Louisville, Kentucky -- but Dao resisted.
Long was called to the scene after hearing about the dispute. Once he arrived onboard and tried getting Dao off the plane, he remained in his seat with his arms tightly folded. When Long tried to "hold" the man and bring him toward the aisle, he started "flailing."
Long's account of the events says the passenger lost his balance while flailing his arms, which ultimately caused him to strike his mouth on the chair's armrest.
Once Long was able to remove Dao from the plane, the struggle continued.
The officer claims when Dao was finally off the aircraft, he said he was a diabetic and ran back toward the plane. Dao also said they'd "have to kill him" before taking him off the flight, according to the officer.
In addition to Long's statements, a "Hospitalization Case Report" has also been released. It claims Dao had been striking his face against the armrest as "officers attempted to remove him" from the flight, according to Chicago Police.
Dao suffered a concussion, the loss of two front teeth and a broken nose, though Cosmopolitan states neither report makes mention of the injuries.
Now that both sides of the incident have surfaced, we'll see what unfolds next.
Citations: The Officer Who Dragged a Man Off a United Flight Gives His Side of the Story (Cosmopolitan)