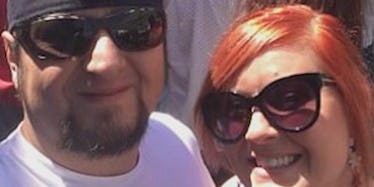 Couple Kicked Off United Airlines Flight While On Way To Their Own Wedding
Michael Hohl
A bride and groom heading to their destination wedding were kicked off a United Airlines flight on Saturday, April 15.
Michael Hohl and Amber Maxwell were flying from Salt Lake City to Costa Rica and had a layover at George Bush Intercontinental Airport in Houston, Texas, KHOU reports.
The controversial situation began when the bride and groom boarded the plane and noticed a man napping across the row in their seats — 24 B and C.
Instead of waking the man up, Hohl and Maxwell decided to move up three rows and sit in seats 21 B and C. They didn't think it was going to be a problem because the plane was only halfway full and they were the last ones to board.
Hohl talked to KHOU about his decision to move seats and said,
We thought, 'Not a big deal.' It's not like we are trying to jump up into a first-class seat. We were simply in an economy row a few rows above our economy seat.
The United staff wasn't having it, though.
Moments after sitting down, a flight attendant approached them.
The couple explained their situation and asked if they could get an upgrade, which the flight attendant denied. Instead, she asked they return to their ticketed seats, so they complied.
Hohl said after they sat down in their original seats, a US Marshall boarded the plane and asked them to leave.
The two were frustrated and confused as to why they were kicked off the plane after calmly adhering to the flight attendant's requests. They were forced to take a different flight the next morning while the bridal party was preparing in Costa Rica.
According to the groom, United claimed he and his bride were being "disorderly and a hazard to the rest of the flight," and that they tried to upgrade their seats "repeatedly" without following the crew's instructions.
Their seat change can be viewed as an "upgrade" since United Airlines considers the seats several rows up to be "economy plus" as compared to their original "economy" seats.
Since they were booted from the plane, United seem to have no remorse.
The company released a statement and said,
We're disappointed anytime a customer has an experience that doesn't measure up to their expectations. These passengers repeatedly attempted to sit in upgraded seating which they did not purchase and they would not follow crew instructions to return to their assigned seats. We've been in touch with them and have rebooked them on flights tomorrow.
Hohl told KUTV United made "inconsistent promises about hotels and transportation to hotels," and thought the way it handled the situation was "really absurd."
Judging from recent controversy surrounding United Airlines, it's safe to say Hohl isn't the only one who doesn't agree with the way the airline treats its customers.
Citations: Utah Couple Claims They Were Kicked Off United Airlines Flight on the Way to Their Wedding (People), Bride and groom booted off United flight in Houston (KHOU), Utah couple kicked off United flight to their own wedding (KUTV)