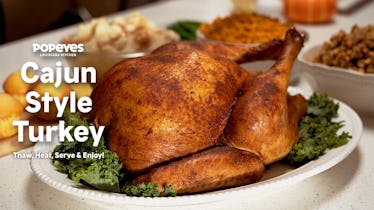 The Price Of Popeyes' 2022 Cajun-Style Turkey Depends On How You Order
I had to do a double-take at checkout.
Courtesy of Popeyes
Thanksgiving is fast approaching, so it's time to start thinking about your holiday food menu — most importantly, the turkey. If you don't want to worry about the hassle of cooking a raw turkey, or you just want to try something different this year, Popeyes' flavorful Cajun-Style Turkey is a good option to keep in mind for 2022. The Louisiana-style meal is available to order online for the first time ever, and while it might make planning your feast even more convenient, the pre-made bird is going to cost you. Yup, the cost of Popeyes' 2022 Cajun-Style Turkey comes with a major price increase – depending on how you order, that is. Here's what you need to know.
After making its debut for Thanksgiving 2018, Popeyes' slow-roasted Cajun-Style Turkey has been a fan favorite ever since. Maybe it's because the pre-cooked turkey requires very little preparation, or maybe it's the crispy taste of the flash-fried exterior mixed with the bird's zesty blend of Louisiana-style seasonings that puts it over the top. Either way, the limited-edition offering has been a Thanksgiving staple for nearly five years. But now that the turkey dinner has a new online order option, the price of the Cajun-Style Turkey is a lot harder to swallow.
Popeyes' Cajun-Style Turkey Delivery Price
In 2021, the Cajun-Style Turkey had a starting price of $39.99. For 2022, the new online ordering option will cost you $94.99 plus tax.
The $55 price increase might seem excessive, but you'll have to remember that shipping is included as well, according to the Cajun-Style Turkey pre-order page on the Popeyes website. Now, I'm not sure if shipping for a turkey is worth more than half what it cost a year ago, but if you're all about convenience, you'll have to shell out nearly $100.
Not looking to drop a Benjamin on a Thanksgiving bird? I don't blame you — and you're not out of luck.
Popeyes' Cajun-Style Turkey In-Store Price
If you don't think you can swing the turkey dinner this year, don't count out the Thanksgiving tradition just yet, because the Cajun-Style Turkey is still available to purchase in-stores for a much lower price. I called my local Popeyes in Brooklyn, and according to the store, ordering the tasty turkey in person will cost you $40.99 plus tax. Keep in mind, though, that prices are set by individual restaurants, which means the cost may vary by location. Still, you can expect the in-store pick-up option to be a lot cheaper without the added shipping costs.
Popeyes' Cajun-Style Turkey is available for pre-order online and for purchase in participating stores starting Oct. 18. TBH, it might be worth your while to call around to get an idea of what prices are looking like around you before committing to the nearly-$100 bird.
This article was originally published on