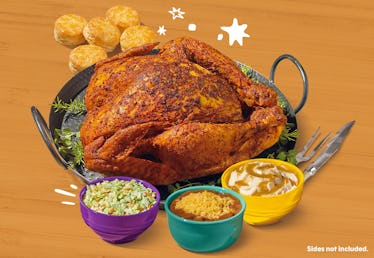 How To Order Popeyes' Cajun-Style Turkey For Delivery To Your Door
Thanksgiving prep just got simpler.
Courtesy of Popeyes
You've probably just gotten used to the fall weather, but the holidays are coming up fast, and getting your Thanksgiving turkey fix is an important part of the season's to-do list. Whether you're having a Friendsgiving or are in charge of the main dish for your family party, Popeyes' popular Cajun-Style Turkey is a great option if you don't want to spend all day tending to a bird. To help you keep your kitchen time to a minimum this Thanksgiving, here's how to order Popeyes' Cajun-Style Turkey to get a Thanksgiving feast delivered straight to your door.
Prepping for Thanksgiving is hard work, and if you're thinking about skipping cooking altogether to avoid the hassle, you could opt for a ready-made turkey. Luckily, Popeyes is helping you have another year of low-maintenance Thanksgiving prep. If you're new to the T-gives tradition, the slow-roasted Cajun-Style Turkey is prepared by the master chefs at Popeyes by marinating the bird in Popeyes' signature blend of Louisiana-style seasonings, and it gets its crispy exterior through flash-frying. The bird is then frozen, so you can bring it home for easy prep. Feel free to rack up the guest list for your holiday feast, because the turkey can serve 8-12 people. Plus, since it's pre-cooked, all you need to do is purchase, heat, and serve.
The Cajun-Style Turkey became available Tuesday, Oct. 18, and there are a couple ways to get yours. You can score your turkey dinner at a Popeyes near you or you can order your Cajun-Style Turkey with a new online delivery option via the Popeyes website. (IDK about you, but I'm Team Deliver That Bird Right To My Door.) Here's everything to know about getting your Thanksgiving on with Popeyes.
How To Order Popeyes' Cajun-Style Turkey Online
As of Oct. 18, you can pre-order your turkey online by visiting the Cajun-Style Turkey page on the Popeyes website and clicking the "Order Now" button. Then, you'll be able to select how many turkeys you want before you add to cart. When you're ready to check out, you'll have to fill out your shipping and payment information, and once you do that, the turkey is all yours. Popeyes' Cajun-Style Turkey will start shipping out Oct. 24, and they'll take one to three business days to arrive. To get a jump on Thanksgiving prep, make sure you've got the space in your freezer to store the bird.
If you do choose to order your turkey online, be prepared to shell out $94.99 plus tax. The shipping is included, but you'll be dropping about $100 on your holiday bird.
If the turkey seems pricier than last year, you're not wrong. In 2021, the Cajun-Style Turkey had a starting price of $39.99. That's a pretty steep $55 increase, but a lot of that is for delivery. A New York Popeyes location was selling the turkey for $40.99 plus tax for 2022, as of Oct. 18.
How To Order & Buy Popeyes' Cajun-Style Turkey In-Store
If having your turkey delivered on Oct. 24 still isn't early enough for you, you can also purchase your Thanksgiving dinner in-stores at participating restaurants nationwide starting Oct. 18. You can call or visit your local Popeyes to check whether or not it will be carrying the limited-time offering, but don't wait too long to track down a turkey.
According to Popeyes, the Cajun-Style Turkey is only available in-stores and online while supplies last, so you're probably better off scoring yours sooner rather than later. Because prices are determined at the discretion of the restaurant, you can expect prices to vary by store. But with the New York store I called only having raised the price $1 from last year, you can likely expect a price in-store around $40.99 as well.
A tradition that stuck, Popeyes' Cajun-Style Turkey debuted during Thanksgiving 2018 — and with it back for its fifth year with the same tasty recipe, you know the entree has gotta be good. If the in-store ordering was keeping you from trying the delicacy, now's the time to snap up an online order and have it delivered straight to your door.
This article was originally published on