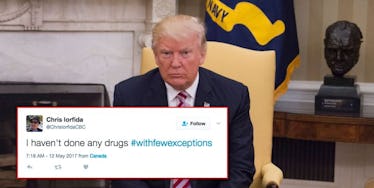 #WithFewExceptions Is The Newest Meme To Troll Donald Trump About Russia
Getty Images
President Donald Trump's tax returns from the past 10 years do not show "any income of any type from Russian sources," according to Trump's lawyers.
Well...they don't show "any income of any type from Russian sources" with few exceptions, according to the Associated Press.
The AP tweeted out this news, including the phrase "with some exceptions" on Friday morning.
In response to this tweet, the internet gathered and started laughing.
Almost immediately, #WithSomeExceptions started trending on Twitter:
The #WithFewExceptions tweets show few signs of stopping.
The "few exceptions" of income from Russian sources noted by the AP are over $95 million.
So, you know, just some exceptions.
Trump's income from the past 10 years from Russian sources, according to his lawyers, come from the 2013 Miss Universe pageant, which was hosted in Moscow, and the $95 million sale of a property to a Russian billionaire in 2008.
The lawyers also said Russians do not have investments in Trump things and Trump does not owe any debt to Russian lenders.
Trump's lawyers told the AP this information without actually giving them copies of his tax returns. So, the AP noted, this is just what the lawyers said, with no way to confirm it outside of their claims.
Trump's tax returns have been a source of intrigue since he started running for president a hundred (OK, just two) years ago.
As a candidate, Trump refused to release his tax returns, going against what every other major presidential candidate has done in the modern era. He said it was because he was under an IRS audit, which a lot of people called a bullshit reason.
Tax returns show where a person gets their income. Like, for example, if they've been getting money from Russians in exchange for providing them some service or product.
There have been some versions of his tax returns made accidentally public, including a boring form from 2005 and his 1995 returns showing a $916 million loss.
As president, Trump has continued to refuse to reveal what's going on with his taxes, claiming that nobody cares about them.
To prove that maybe a few people care about them a giant tax march happened in D.C. -- and across the United States on April 15, with hundreds of thousands of people out demanding to see Trump's tax returns.
Politicians have also been trying to figure out legal ways to force Trump to release his tax returns. So far, it's not working.
Citations: The Latest: Lawyer: Trump had no income from Russians (Associated Press)