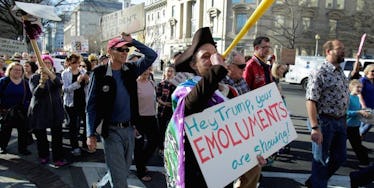 6 Things To Know About The Anti-Trump Tax Marches Happening This Weekend
REUTERS
The Tax March is happening this Saturday as a demonstration against President Donald Trump.
This march isn't one against Trump's misogyny or illegally discriminatory policies or desecration of land or bombing of Syria.
This weekend's marches are about an old campaign issue.
In case you don't recall from 2016, Trump refused to release his tax returns. Basically every presidential candidate since the 1970s has released tax returns, so it's kind of shady that he continues to refuse to do so.
Right before the inauguration, in a bizarre press conference, Trump said he would not be releasing his tax returns.
He has repeatedly said that it's because he is under audit, which isn't a good excuse. During the January press conference, Trump said,
You know, the only one that cares about my tax returns is the reporters. [...] I won. [...] No, I don't think [the American people] care at all.
So this march is to prove that American people do, in fact, care about seeing what Trump's so scared of showing us on his tax returns. Here's what you need to know about the march.
1. The Tax March is happening on Saturday.
Saturday is April 15, which is the traditional Tax Day.
But don't freak out: Saturday isn't this year's tax filing deadline -- Tuesday the 18th is. The 15th is just the traditional day.
The main march is happening in Washington DC, like the Women's March in January.
2. The Tax March is not the Women's March.
The Tax March is its own separate thing.
But it was started in part by someone who marched in the Women's March on January 21 in Boston. The day after the march, Kellyanne Conway declared Trump would not be releasing his tax returns because no one cared.
This annoyed Jennifer Taub, a law professor at Vermont Law School. So she tweeted about it, saying it'd be cool to march on Tax Day to tell Trump people want to see the releases.
She wasn't the only one with that idea. Frank Lesser, a comedian, also tweeted about it.
When their tweets went viral, organizing started.
3. Big crowds are expected.
A permit shows the organizers are expecting up to 10,000 people in DC, according to the Washington Post. That's not quite Women's March numbers, but it's still pretty big.
It's expected to be one of the biggest demonstrations in DC this spring, along with another march the next weekend (we'll get to that in a minute).
Along with the crowds, there will be politicians speaking, including Senator Ron Wyden of Oregon, badass Representative Maxine Waters of California and Representative Jamie B. Raskin of Maryland, all Democrats.
4. If you can't make it to DC, there will be local marches.
There are over 100 minor marches for Tax Day planned across the country. You can check out that list here.
In addition to national marches, there will be some international ones. The international ones are planned in Germany, Japan, New Zealand and the United Kingdom.
5. And you can support the march without going outside.
The Tax March is accepting donations to help put the demonstration together.
Of course, you can also participate by tweeting at Donald Trump using the #TaxMarch hashtag.
6. This is not the last march against Trump.
There will, in fact, be another huge march against Trump just next weekend. That one is the Science March. It coincides with Earth Day on Saturday, April 22.
Meanwhile, actions are still going on from the Women's March and protests happen basically anytime Trump does anything. You just have to know where to look -- and we'll do our best to help you out with that.
Citations: Trump Won't Release His Tax Returns, a Top Aide Says (New York Times), Washington Post