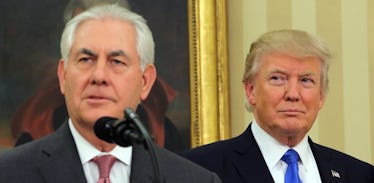 White House Plagiarized ExxonMobil In Statement And Internet Won't Let It Slide
REUTERS
President Donald Trump is facing yet another plagiarism scandal.
Just a quick refresher:
First, Melania Trump plagiarized Michelle Obama's convention speech. Then Melania lifted a line from Trump's second wife, Marla Maples. Ivanka Trump was sued for copying some clothing designs, and Donald Trump Jr used a photo without the photographer's permission and lifted a racist meme from a talk radio host.
And then President Trump kinda took a line from Bane for his inauguration speech. It was weird.
The newest Trump plagiarism scandal comes from an official White House statement.
The White House released a statement on Monday congratulating ExxonMobil for a program investing in jobs. (Also as a note, that program from Exxon was announced in 2013. Soooooooo...)
Except some eagle-eyed readers noticed that the language was familiar.
It appeared as if the White House had directly copy-and-pasted a full paragraph... from ExxonMobil.
White House press release (left) contains full paragraph copied verbatim from Exxon press release (right). pic.twitter.com/NlhoUvdqvd — Christopher Ingraham (@_cingraham) March 6, 2017
That paragraph came from a statement Exxon had put out 30 minutes before the White House released the press release.
So the White House copy-pasted that paragraph and also copied one sentence from Exxon CEO Darren Wood -- but didn't say he said it. That line was,
These jobs will have a multiplier effect, creating many more jobs in the community that service these new investments.
People on the internet were not terribly impressed with the White House's Exxon slip.
The White House plagiarism was especially egregious because of Trump's Secretary of State, Rex Tillerson.
Rex Tillerson was, in fact, the CEO of ExxonMobil before being tapped for the Secretary of State position.
So that makes this whole thing a little more worrisome.
It turns a statement praising job creation into a statement that seems to be suspiciously praising companies that financially support the administration.
We generally don't like that kind of thing.
According to the Huffington Post, this whole situation could be investigated in the same way that Kellyanne Conway endorsing Ivanka Trump's brand was investigated -- because you're not supposed to use your government position to make cash.
According to Politico Playbook, lifting words like this "in any other White House" would lead to "an investigation, an apology and someone might get fired." So far, nothing has been done in the Trump White House, as far as we know.
Citations: The White House Plagiarized An ExxonMobil Press Release (Refinery29), White House Lifts Several Sentences From Exxon Mobil Press Release (Huffington Post), THE INSIDE SCOOP: Obamacare replacement politics … RAND PAUL joins with Freedom Caucus -- TRUMP to strategize with House GOP deputy whips -- ZUCKER SPEAKS in Jerusalem (Politico)