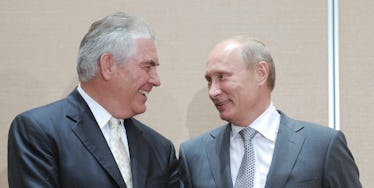 Trump Picks Putin's Friend For Sec. Of State, DGAF Russia Hacked US Election
REUTERS
Donald Trump has selected Exxon Mobil CEO Rex Tillerson for secretary of state, NBC News reports.
Tillerson has very close ties with Russian President Vladimir Putin.
In fact, there is arguably no American who is closer to Putin than Tillerson.
Putin literally gave this man the "Order of Friendship" award back in 2013.
So, yes, the president-elect has picked a friend of Putin to be America's top diplomat the day after it was reported the CIA concluded Russia interfered in the US election to boost Trump's chances of winning the presidency.
Trump also attacked the CIA's credibility, and appeared to defend Russia, after this news broke.
Needless to say, this is fairly controversial and some believe it will lead to a major shift in America's approach to foreign affairs.
President Obama and Putin do not have a good relationship, and have sparred over everything from Russia's annexation of Crimea to the ongoing conflict in Syria.
Throughout his campaign, Trump signified a desire to improve US-Russia relations. In selecting Tillerson for secretary of state, it seems Trump was serious about this.
But given Putin's autocratic tendencies and the revelations about Russia's involvement in the election, this is going to rub a lot of people the wrong way.
Tillerson's career as an oil executive has given him extensive international experience.
So, unlike some of Trump's other cabinet picks, he at least has qualifications for this extremely important role. However, he has no government experience.
There was a lot of speculation over whom Trump might select for secretary of state.
Rudy Giuliani and Mitt Romney, among others, were considered to be top contenders.
But Giuliani ultimately took his name out of consideration, and Romney presumably wasn't selected due to the fact he was extremely critical of Trump during the election cycle.
Former UN Ambassador John Bolton will reportedly serve under Tillerson as his deputy secretary of state.
Tillerson's nomination still requires senate confirmation, and his close ties with Russia might complicate this process.
Only time will tell.
Citations: Rex Tillerson of Exxon Mobil Expected to Be Named Trump's Secretary of State: Sources (NBC News)