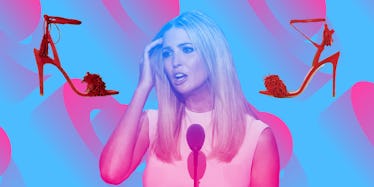 It Looks Like Melania Isn't The Only Trump Stealing Other People's Ideas
REUTERS
Melania Trump made headlines last week for blatantly having an entire section of her speech at the RNC plagiarized. And now, it seems like her daughter, Ivanka Trump, is also about to get into trouble for stealing someone else's ideas.
Aquazzura, an Italian fashion company, is suing Ivanka Trump, claiming that she stole one of their designs for her shoe line.
Ivanka's "Hettie" shoe – which retails for $145 – has a striking similarity to Aquazzura's (unfortunately named) "Wild Thing" shoe, which clocks in at $785.
The CFO of Ivanka's shoe line denied the accusations, and claimed that the nearly identical design is just "representative of a trending fashion style, is not subject to intellectual property law protection and there are similar styles made by several major brands."
Cosmopolitan offered a side-by-side comparison of the design in question, and it's pretty damning.
And if you had any doubts, they also pointed out some other designs that Ivanka seems to have stolen from the Italian company.
Design-stealing is a huge problem in the fashion industry because it is difficult to prove, and the lawsuits can be extremely expensive. But many of the largest companies have been hit with lawsuits like this one.
Most recently, Zara got into trouble for blatantly ripping off a relatively unknown designer's work. So, Ivanka should be careful.