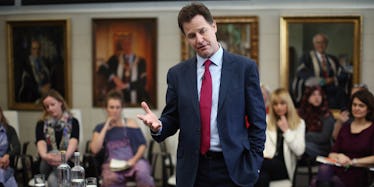 Foreign UN Delegates Were Shocked By Lack Of Gender Equality In The US
Getty Images
United Nations delegates from Poland, the United Kingdom and Costa Rica visited Texas, Alabama and Oregon to analyze gender equality in the United States, according to Huffington Post.
They reportedly found we're not doing so hot.
The delegates noted America has a gender pay gap, is lacking in adequate maternity leave and affordable child care, has poor treatment of female migrants in detention centers and does not provide proper security for women against gun violence, Huffington Post reports.
On the issue of gun violence, they pointed out the lack of federal laws protecting women. While some states have laws preventing people with records of domestic violence from owning guns, there is no national law. The delegates apparently believe there should be.
The delegates were also shocked by the roadblocks women have to pass through to get abortions. They visited a clinic in Alabama where they were shouted at by protesters. Eleonora Zielinska, the delegate from Poland, reportedly said,
It's a kind of terrorism.
She said abortions in most European countries are provided at normal doctors' offices.
Legislation in many American states forces clinics to adhere to the rules of ambulatory surgical centers, which have requirements that are extremely costly to meet, causing many clinics to shut down.
The delegates said the government should stop these laws and others that cut off women's access to abortions. The Supreme Court decided to tackle that case in the upcoming year.
In many ways, American women are lacking in equality, from differences in salary to companies not being required to cover birth control or give maternity leave.
Many of these differences in equality put women at physical risk -- whether from intimate partner violence, homelessness with a lack of financial security or risky attempts to end a pregnancy without access to abortion services.
Hopefully, this report will help people realize just how far we are from full gender equality and push Americans to reflect that through votes to get the government to move on some of these changes.
Citations: The U.N. Sent 3 Foreign Women To The U.S. To Assess Gender Equality. They Were Horrified. (Huffington Post)