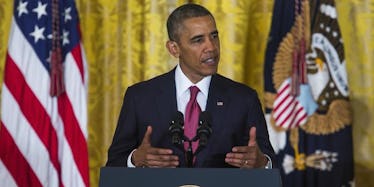 Congress Has Not Passed A Single Gun Control Law Since Sandy Hook
Getty Images
Three years ago, on December 14, 2012, a man walked into Sandy Hook Elementary School in Newtown, Connecticut and killed 20 children and six adults.
Since then, Congress has not passed any laws restricting people's access to guns to prevent future tragedies.
President Barack Obama's team is putting together a plan for an executive action -- that wouldn't need Congress's approval -- to close the gun show loophole that allows people to buy guns at shows and online without background checks, the Associated Press reported last week.
Obama has been saying since December 2012:
As a country, we have been through this too many times.
A month after the Sandy Hook shooting, Obama suggested a large set of gun laws that would change the sales and use of guns in America.
In the three years since then, that proposal has gone nowhere and no federal, national changes have been made.
A ban on assault weapons and high-capacity magazines -- like what the Newtown shooter used -- did not pass a Senate vote a few months after the shooting.
An amendment, considered a compromise, which would require background checks for all gun sales, also failed in the Senate a few months after the Newtown shooting.
Most recently, earlier this month the Senate struck down an amendment that would prevent people on the FBI's terrorist watch list from buying guns and explosives.
While Congress has done nothing, states have stepped up to pass their own legislation, NBC reported. Gun laws in 15 states and Washington, DC -- covering 44 percent of the population -- have been strengthened.
At the same time, however, many states have made it easier to get and carry guns, the AP reported.
Although mass shootings like the horror of Newtown get the most attention, they aren't the main way children are affected by guns. More often than not, children and adolescents are killed by guns in homicides, suicides and accidents -- including many incidents of domestic violence.
While political debates have carried on, at least 554 children under the age of 12 died from intentional and accidental gunshots since the Sandy Hook shooting, according to NBC.
Had federal laws been instated, it's possible many of those children would still be alive today.