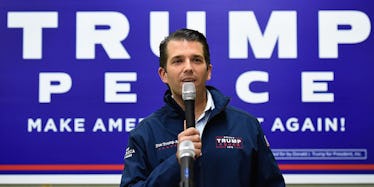 Twitter Is Trolling Trump Jr. With Hilarious Fake Children Book Titles
David Becker/Getty Images
Tuesday, July 11, has been a terrible, horrible, no good, very bad day for Donald Trump Jr. as he revealed emails about a meeting with Russian lawyer Natalia Veselnitskaya. So of course, Twitter is trolling Trump Jr.
The emails were between Trump Jr. and his associate Rob Goldstone, a music publicist who was helping to set up this meeting for whatever reason.
In the emails, Trump Jr. is offered "official documents and information that would incriminate Hillary and her dealings with Russian and would be very useful to your father." One of Goldstone's emails also read,
This is obviously very high level and sensitive information but is part of Russia and its government's support for Mr. Trump.
This information all comes after Trump Jr. insisted the meeting was just about adoption and not related to the Russian government. It also comes as a special counsel is investigating possible collusion between Russia and the Trump campaign during the 2016 U.S. presidential election.
Trump Jr. maintains that his behavior was innocuous, saying in a tweeted statement that lawyer Veselnitskaya "was not a government official" and that "she had no information to provide and wanted to talk about adoption policy."
These emails could potentially implicate Trump Jr. for some pretty serious crimes. All in all, it's just not a good look for the oldest Trump child.
But it is great drama for onlookers. HuffPost Comedy started a hashtag, #DonJrChildrensBooks, and urged users to join in on their fun.
The concept is pretty simple. Just take a children's book name and reword it so it's relevant to Trump Jr.'s situation.
The #DonJrChildrensBooks tweets are hilarious.
There were jokes about collusion and treason.
And other types of serious political offenses.
Of course, many of the tweets riffed on the Russia connection.
It remains to be seen what -- if anything -- will actually happen to Trump Jr. with this email reveal. But for now, we've got some great tweet fodder.