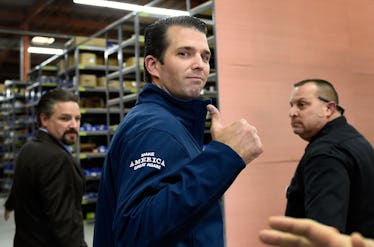 Twitter Is Roasting Donald Trump Jr With His Own Gross Tweet After Russia Report
Photo by David Becker/Getty Images
Donald Trump Jr. has had a busy week.
First, the New York Times published a piece questioning whether or not Trump Jr. met with a Kremlin-associated lawyer for dirt on Clinton last summer. Then he released a few seemingly contradictory statements in response to the allegations. Then he tweeted a bunch, possibly implicating himself in the Russian election hacking investigation. And then he hired a lawyer.
And now, as is the new normal, people are crawling Eldest Trump Child's Twitter for relevant tweets, and someone dug up one that is painfully relevant.
The tweet in question? It's from 2011 -- and it casts his doubts upon allegations that then-GOP presidential hopeful Herman Cain had previously made unwanted advances toward a woman named Sharon Bialek. (Bialek had, according to her complaint, sought out career advice from Cain, and he in turn allegedly assaulted her and told her, "You want a job, right?" when she rejected his advances.) Bialek was one of three women to file complaints against Cain and the only one to go public.
The content of the tweet is, itself, gross, of course.
But people are also trolling Trump Jr. because his statement -- that a bad memory doesn't necessarily erase deeds done -- seems eerily relevant to statements both he and the Kremlin have made in regard to the meeting.
As recently as March, he had told the NYT that he "couldn't think of" anyone who was Russian who he had met with as a representative of his father's campaign. This weekend, he initially said that he had met with the Russian lawyer, Natalia Veselnitskaya, but the meeting was about an adoption program, not the presidential campaign. Then, he released a second statement (and tweeted) that he had discussed information on the Clinton campaign with Veselnitskaya.
Anyways, it's a whole mess, and his initial statement suggesting that he didn't quite remember the nature of the meeting (with an assist from the Kremlin being all ~shrug emoji~) is why people are breaking out the popcorn for this.
One person gave Trump Jr. good advice -- too little, too late, though.
Yeesh. This is why people say, "Never tweet." Maybe he should take a break from Twitter for a while or something.