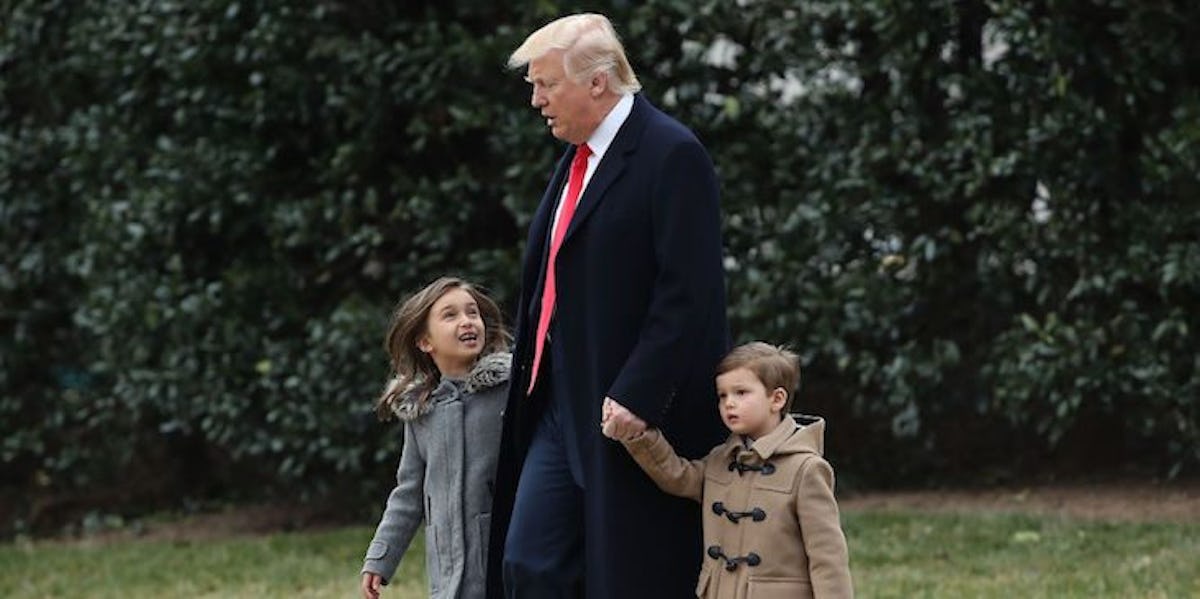 Trump's Granddaughter Interrupted An Awkward Interview And Twitter Is Amused
Mark Wilson/Getty Images
During an interview with The New York Times published on Wednesday, July 19, Arabella Kushner, President Donald Trump's granddaughter, walked in and interrupted the conversation at an opportune moment for the president.
President Trump was being questioned about his interactions with former FBI Director James Comey, who he controversially fired, when the 6-year-old daughter of Ivanka Trump and Jared Kushner entered and said, "Hi, Grandpa."
The president then shifted the conversation away from Comey and asked his granddaughter to speak Chinese for the reporter, Michael S. Schmidt.
Kushner said "Ni hao," which means hello. Trump also got the young girl to say "I love you, grandpa" in Chinese.
This isn't the first time Kushner's knowledge of Chinese has landed her in the news, as her mother has posted videos of her singing and reciting poetry in Mandarin in the past.
This was clearly an adorable moment to witness, but many on Twitter also found the timing curious.
Was this planned? Some people seem to think so, especially given that Ivanka Trump entered alongside her daughter.
On Thursday, July 20, Kushner's appearance in her grandfather's interview was a major topic of discussion on social media.
The subject of Comey's firing has been a thorn in the Trump administration's side for months.
The former FBI director was spearheading an investigation into the Trump campaign's alleged collusion with Russian interference in the 2016 U.S. presidential election when he was dismissed.
While there's not any proof Kushner was intentionally inserted into the interview to save the president from having to speak about the Comey situation, it was certainly convenient.
Trump definitely owes Kushner, bigly, for getting him out of that conversation. Perhaps she has a future in communications?
Trump's granddaughter just had a birthday.
Kushner turned 6 on July 17.
Ivanka Trump, the president's daughter and Kushner's mother, made an interesting treat for her party: hot dogs with marshmallows.
While this might sound bizarre, it's apparently a pretty popular Filipino tradition for children's birthday parties.
And, to be fair, far weirder things have happened. A former reality TV star is the president of the United States, for example.