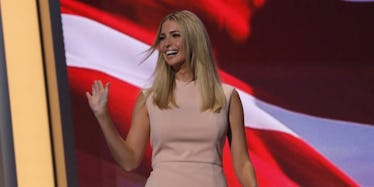 Experts Say Women Are Getting Plastic Surgery To Get Ivanka's Signature Traits Signature Traits
REUTERS
Despite the fact her father is frequently critical of China — especially in relation to trade — it seems Ivanka Trump is extremely popular there.
In particular, many in China appear to be fans of Ivanka's appearance, and there's even a Chinese cosmetic surgery firm offering people the chance to try and look a bit more like her.
Ivanka is so popular in China, people want to look like her and are pursuing plastic surgery.
Li Yunxing, human resources manager for Foshan Yiwanka Medical Management (Yiwanka shares characters with the Chinese spelling of Ivanka), told The Washington Post,
Young women in China like to change their looks to copy film stars' eyes, noses and lips. No doubt young women here want Ivanka's big eyes, her pretty nose and lips and her flawless figure. Her facial features, disposition and appearance are perfect, no matter whether they are judged by the beauty standards of the East or the West.
Between November 10, 2016 and the end of the year, there were 258 trademark applications submitted by companies to use Ivanka's name, or different variations of it, to boost their sales.
Ivanka's popularity in China apparently began even before the election.
Videos of Ivanka's daughter singing and reciting poetry in Mandarin have also gone viral in China in recent months, increasing her notoriety.
To top top it all off, Ivanka and Arabella reportedly stole more hearts when they visited the Chinese Embassy in Washington to celebrate the lunar new year in February.
Meanwhile, Ivanka's husband, Jared Kushner, a senior adviser to the president, also has significant business ties with China.
Ivanka doesn't have a formal position or title in the White House, but she definitely plays a very significant role in the Trump administration, which has given her many fans, but also many critics.
Citations: From diet pills to underwear: Chinese firms scramble to grab Ivanka Trump trademark (The Washington Post), Women in China are flocking to plastic surgeons looking to copy the 'big eyes, pretty nose and flawless figure' of Ivanka Trump (DailyMail.com)