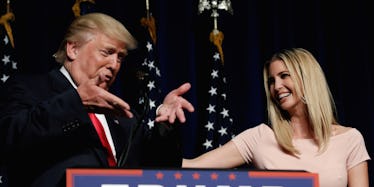 Trump Says 'Sex' Is Favorite Thing He Has In Common With Ivanka In 2013 Video
REUTERS
The Pandora's box of Donald Trump's past is continuing to spray horrors into the world.
The latest is an interview that reemerged this week. Ivanka Trump and her father, Donald, appeared on the "Wendy Williams Show" in 2013.
During the show, Williams asked what should have been a cute question: What's the favorite thing the father and daughter have in common?
Ivanka answered like a human speaking in public. She said,
Either real estate or golf.
Donald, however, answered like a creepy family member who corners you at Thanksgiving. He said,
Well, I was going to say sex, but I can't relate that to her.
So sure, Trump said he and Ivanka did not have sex in common.
But we did learn two things from this exchange. First, Trump had sex on his mind while being interviewed sitting next to his daughter. Second, Trump could not think of something he had in common with his daughter.
Ivanka just gives a shocked look as he gives his answer.
The video also features Donald talking about First Lady Michelle Obama. Last week in the election, the Republican nominee tried to attack her.
But in this 2013 video, he was praising her. Trump said,
I like her very much. I think she's a nice woman.
This isn't the first time Trump has been caught praising an adversary who he now goes after. Last week, a video was uncovered showing Trump praising the Clintons.
Ivanka has been a major player in the presidential election this year. She has given speeches in support of her father, even at a possible financial expense to her brand.
Trump has long, um, praised his daughter. He once said if she weren't his daughter, he'd be dating her. After her speech at the Republican National Convention in Cleveland this year, he showed his fatherly thanks:
Trump has good feelings toward his daughters. In 1994, when his daughter Tiffany was 1 year old, he said she had his then-wife's legs.
Dads will be dads.
Elite Daily and 50 other media organizations partnered with Rock The Vote to register 100,000 women to vote. You can register right here (and men can use it too) :
Citations: Daily Mail