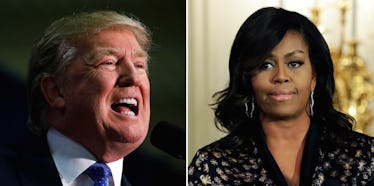 Trump Just Tried To Clap Back At Michelle Obama And No One's Having It
REUTERS
For some strange reason, Donald Trump thought it would be wise to go after America's queen, Michelle Obama.
Last week, MObama gave a passionate speech against Trump... without once uttering his name. She talked about how his language of predatory sexual behavior shook her to her core, and how it must be rejected.
So Trump – who is dropping in the polls – decided it was time to attack the First Lady, who has a higher public approval rating than Bill Clinton and Melania Trump.
During a campaign rally on Friday, the Republican presidential nominee started by going after President Barack Obama. He said,
We have a bunch of babies running our country, folks. We have a bunch of losers. We have a president, all he wants to do is campaign.
This comes days after the president said,
I'd invite Mr. Trump to stop whining and go try to make his case to get votes.
Then, Donald went after Michelle, saying that she too only wants to campaign.
He then started talking about how much Obama "likes Hillary," given the campaigning she is doing for her. Trump says,
But wasn't she the one that originally started the statement, 'If you can't take care of your home, you can't take care of the White House'?
Trump supporters have been resurfacing a 2007 clip of Michelle in an attempt to discredit her current support for Clinton.
Indeed, Obama said in 2007 that she believes if you can't take care of your home, you can't take care of the White House.
Trump uses this as an excuse for why he has been using Bill Clinton's sexual assault accusers against Hillary.
Trump says,
I said, 'We can't say that, it's too vicious.'
But then, he says that he found out Obama had said it.
But here's the thing: Obama did not say that about Clinton. She was talking about Barack and herself, and how they were running the campaign. During a campaign stop in Iowa in 2007 – according to Politifact – Obama said,
One of the most important things that we need to know about the next president of the United States is, is he somebody that shares our values? Is he somebody that respects family? Is (he) a good and decent person? So our view was that, if you can't run your own house, you certainly can't run the White House. So, we've adjusted our schedules to make sure that our girls are first, so while he's traveling around, I do day trips.
If you want to believe that Obama said what she did to subtly make a jab about Clinton not being able to stop her husband from having affairs and carrying on questionable sexual behavior, that's your prerogative. But the context does not support your case.
Barack Obama said in a conference call in 2007 that what his wife said was not about the Clintons. He said,
There was no reference beyond her point that we have had an administration that talks a lot about family values but doesn't follow through.
When Trump goes low, Obama goes high. And when Obama goes high, we all know where Trump goes.
Elite Daily and 50 other media organizations partnered with Rock The Vote to register 100,000 women to vote. You can register right here (and men can use it too) :
Citations: Gallup, Washington Post, New York Times, Politifact