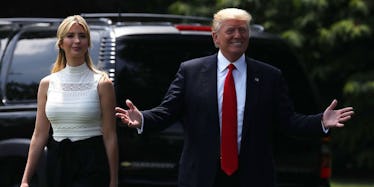 Trump Had A Rough Birthday, But His Family Celebrated With Him On Instagram
Mark Wilson/Getty Images
President Donald Trump turned 71 on Wednesday, but he had a pretty rough birthday.
Early on Wednesday morning, a shooting occurred at a baseball practice involving Republican members of Congress.
Rep. Steve Scalise of Louisiana, the House Majority Whip, was seriously wounded in the process.
Trump was also sued by nearly 200 Democratic members of Congress on Wednesday for allegedly violating the Constitution by profiting from foreign governments via his business empire.
To top it all off, it was reported that Trump is being investigated for obstruction of justice by Robert Mueller, the special counsel overseeing the investigation into Russia's interference in the 2016 U.S. presidential election.
Long story short, it's probably safe to say Trump did not find much time for enjoyment on his day of birth.
In spite of the eventful day he had, the president was still able to celebrate with family.
First lady Melania Trump reportedly threw a birthday dinner for the president, and all four of Trump's adult children posted pictures about his birthday on Instagram.
Melania also posted a picture of a birthday card for her husband.
In a post on Instagram, Ivanka Trump said, "Great being with family tonight for a lovely birthday dinner hosted by @flotus for @realdonaldtrump."
The first daughter and unpaid White House employee also posted a throwback photo of her and the president.
Eric Trump wished his dad a happy birthday via two photos.
Donald Trump Jr. posted an image of his children with the president, as well as a photo including him and his wife with the kids.
And Tiffany Trump said "I love you" in a photo she posted of her and the president.
President Trump's birthday dinner apparently had to be cut short, as he went to the hospital to visit Rep. Steve Scalise.
Subsequently, on Twitter, Trump said Scalise is in "very tough shape -- but he is a real fighter."
After the visit, Trump reportedly returned immediately to the White House.