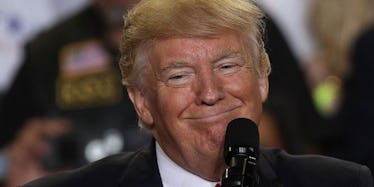 Trump Photoshopped His Own Tweet To His Twitter Banner And It Was Really Weird
Getty Images
Another tweet about Russia from Donald Trump had people scratching their heads.
This time, the surprise wasn't so much about what the president as it was about where how he said it. Namely, in a Twitter banner photo.
On Monday, Trump posted a tweet that had a simple message: "I'm innocent."
Afterwards, the president seemingly went so far as to photoshop the tweet onto the banner on his Twitter profile, according to The Guardian.
The edited banner is no longer on Trump's page, but it's clear what the president was referring to.
In mid-February, Flynn resigned from his post as National Security Advisor after various media reports alleged he lied to Vice President Mike Pence about contact with a Russian ambassador, which increased the suspicion of collusion between Trump's camp and Russian leaders.
Former Director of National Intelligence James Clapper also testified, however, and told the Senate Judiciary subcommittee that he was not aware of any actual evidence that proved collusion between Russia and the Trump campaign.
That testimony was the aspect of Monday's hearings that Trump and his White House focused on most. CNN quoted an anonymous White House official as saying,
President Obama's former director of national intelligence and his former acting CIA director have both said they have seen no evidence of collusion. Clapper repeated his assertion today.
But Clapper also told the Senate that he does not know the details of the of FBI's investigation into the Trump campaign's ties to Russia during the presidential election.
So Clapper neither exonerated nor criminalized Trump, necessarily. Still, Trump turned Clapper's testimony into a banner statement...literally.
As for why the president didn't simply pin the tweet about Clapper to the top of his profile, instead of creating a whole new banner, the world will never know.
Citations: Trump mocked for adding one of his own tweets to Twitter banner (The Guardian), W.H. highlights Clapper's lack of evidence on Trump-Russia collusion (CNN)