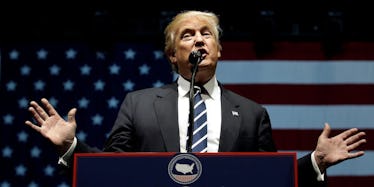 Trump Defends Choice To Not Receive Briefings: 'I'm, Like, A Smart Person'
REUTERS
As it sinks in that Donald Trump will have access to the world's top intelligence briefings, the president-elect also has made it publicly known that he will be the first president to only receive the briefings about once a week.
In an interview that aired today on "Fox News Sunday," Trump defends his decision to stay at arm's length from the updates.
Trump tells Chris Wallace,
You know, I'm, like, a smart person. I don't have to be told the same thing in the same words every single day.
Trump added,
But I do say, if something should change, let us know.
Trump then tries to reassure us by saying Mike Pence, who, as Trump says, "makes very good decisions," is being briefed when he's not.
Call me crazy, but a man who believes in gay conversion therapy, which has been proven to make an individual eight times more likely to commit suicide, and who also caused a $60 million loss in revenue in his home state of Indiana isn't exactly a comfort to me.
In the interview, Trump also discusses claims that Russia interfered with the US election process.
On Friday, The Washington Post reported the CIA would be launching an investigation into these claims, after finding multiple sources, including government official emails, of Russian insider connections.
The CIA believing that Russia was a part of a larger effort to boost Trump and defeat Clinton is not something that can be ignored, and takes the long-running Twitter theories on the matter to the next level.
In response to the allegations, Trump released a statement that seemed to defend Russia over US intelligence agencies, saying,
These are the same people that said Saddam Hussein had weapons of mass destruction. The election ended a long time ago in one of the biggest Electoral College victories in history. It's now time to move on and 'Make America Great Again.'
Trump also tells Fox Sunday these claims are "ridiculous" and "just another excuse." Trump goes on to say hacking is "very interesting," and doesn't seem to think there is a way to catch anyone doing the hacking.
He said,
Once they hack, if you don't catch them in the act, you're not going to catch them. They have no idea if it's Russia or China or somebody. It could be somebody sitting in a bed some place.
President Obama, however, is in support of investigating the allegations, calling for a full review from the CIA on the matter.
A group of Democratic and Republican senators, including Sen. Chuck Schumer, Sen. John McCain, Sen. Lindsey Graham and Sen. Jack Reed, issued a statement today agreeing with Obama, saying,
While protecting classified material, we have an obligation to inform the public about recent cyberattacks that have cut to the heart of our free society. Democrats and Republicans must work together, and across the jurisdictional lines of the Congress, to examine these recent incidents thoroughly and devise comprehensive solutions to deter and defend against further cyber-attacks.
Citations: Bipartisan group of senators calls for probe of Russian role in 2016 US elections (CNN), Trump: Claims of Russian interference in 2016 race 'ridiculous,' Dems making excuses (Fox News)