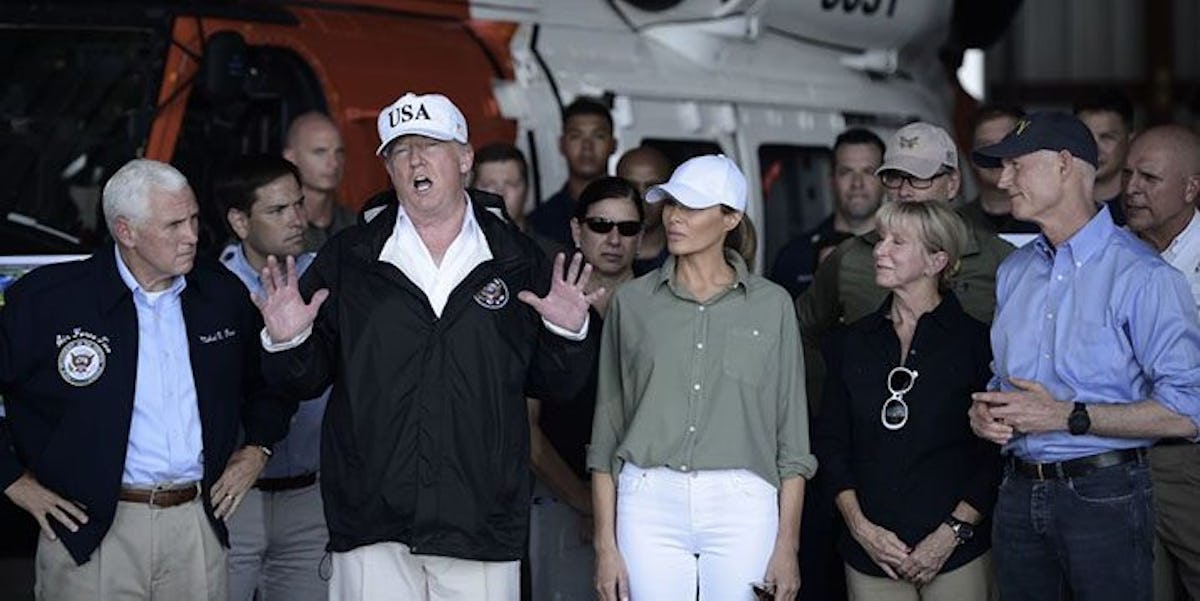 Trump Is Confusing Everyone On Whether A Border Wall Will Happen
BRENDAN SMIALOWSKI/AFP/Getty Images
As more answers emerge on the subject of whether President Donald Trump will help make the Deferred Action for Childhood Arrivals (DACA) into law, even more uncertainty now surrounds a related subject: Will Trump build the wall? The idea of the "the wall" -- i.e. a new, sizable barrier along the Mexican-American border, which was a key promise of Trump's campaign -- has gained increased relevance as the president appears to negotiate his way towards saving DACA. The president and the White House's answers to that all-important question about a border wall, however, have been contradictory.
On Thursday, Sept. 14, after landing in Florida for a visit prompted by Hurricane Irma, the president caused more confusion on the subject. When asked by a reporter whether or not preserving DACA was contingent upon Congress funding the construction of a border wall, Trump said,
They cannot obstruct the wall. The wall, to me, is vital. If I don't get the wall, then we will become the obstructionists.
The president then added,
We have to have an understanding that, whether it's in the budget or some other vehicle, in a fairly short period of time, the wall will be funded.
What exactly such funding would go towards, though, is unclear, partly because of Trump's comments earlier in the morning.
In a series of tweets on Thursday, the president said that the wall was "already under construction," implying that the subject of funding and building the wall was not germane to the DACA negotiations. Trump wrote,
The WALL, which is already under construction in the form of new renovation of old and existing fences and walls, will continue to be built.
The mention of "renovation" in those tweets also implied that no new wall would be built at all, which wholly contradicts Trump's repeated claims that any new structure would become "10 feet higher" if Mexico refused to pay for the wall.
As for that prospect of Mexico paying for the wall, any negotiation of how the United States would fund the structure suggests the country's southern neighbor would not pay for it.
And then there's Trump's suggestion that any deal on immigration (i.e. DACA) must come with "an understanding" that funding for a border wall would be worked towards at a later date.
That suggestion is a departure from Trump's comments just hours before, when he talked to reporters before traveling to Florida on Thursday morning. On that occasion, Trump hinted that funding for a border wall was a separate conversation, telling reporters,
The wall will come later, we're right now renovating large sections of wall, massive sections, making it brand new. We're doing a lot of renovations. We're building four different samples of the wall to see which one we're going to choose and the wall is going to be built, it'll be funded a little bit later.
Trump's comments before and after arriving in Florida come after an even more confusing series of reports. First, on Wednesday night, news broke that Senate Majority Leader Chuck Schumer (D-NY) and House Minority Leader Nancy Pelosi (D-CA) announced they'd reached a deal with Trump to save DACA without securing funding for a border wall.
After that announcement was released, however, White House Press Secretary Sarah Huckabee Sanders pushed back against Pelosi and Schumer's assertion that a deal had been made.
Then, the next morning, Trump's tweets insisted there was "no deal," despite the president simultaneously outlining a deal. And now, after landing in Florida, Trump says an understanding for a wall will be reached and that funding will come later and will not be "obstructed."
In other words, in less than 24 hours, practically every reported comment of significance on the subject of a new border wall has made the last hard to understand.
However, on the subject of whether President Trump will build a totally new, massive structure? Given his comments about "renovation," that seems unlikely, at least at the present.