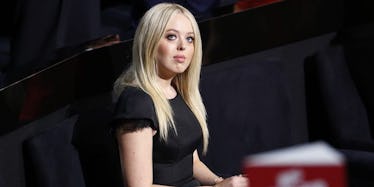 Tiffany Trump's Reaction To Claim No One Will Sit With Her At NYFW Is So Sad
REUTERS
Tiffany Trump is apparently very upset that people were shunning her at New York Fashion Week.
On Monday, Tiffany was given a front-row seat at the Philipp Plein show in New York, but no one would sit next to her.
Fashion editors reportedly avoided sitting next to her because of her father.
You know, the current POTUS who a lot of people aren't very happy with right now (he's the most unpopular new president of the modern era).
This all sounds like something straight out of "Mean Girls."
The incident made headlines, which prompted Whoopi Goldberg to reach out and offer Tiffany her support.
But a source close to Tiffany Trump told People that she's absolutely mortified by the negative attention she received at NYFW.
The source said,
Tiffany really does care about what people think about her.
If you disagree with Donald Trump's policies, that's completely fair.
Politics are personal, and we all have our own views.
Not to mention, the US government is in complete chaos right now as a result of the first month of Trump's presidency. There's a reason he's so exceptionally unpopular.
But, it's arguably very unfair to blame his children for what he does, especially those who aren't playing any role in his administration.
Ivanka Trump — who is constantly at the White House and is basically the first lady — and her husband, Jared Kushner — who is a close adviser to the president — are a different story.
If you have problems with their politics, and the way they've sought to benefit from the fact "the Donald" is now president, that's understandable.
But Tiffany can't help that Donald Trump is her father. People don't get to choose their parents.
Yes, Tiffany is a very privileged, wealthy young woman with all of the advantages in the world. And, your disdain for her father might make you feel no sympathy for her.
But she did not run for office, and, unlike Ivanka, she is not constantly at the White House attempting to impact her father's policies and interact with foreign leaders while continuing to downplay how much influence she actually has (and treating Americans like they're stupid in the process).
Criticize her father — and the nepotism surrounding Ivanka and Jared Kushner — all you want.
But it makes no sense, and is arguably pretty cruel, to attack or shun Tiffany Trump just because she's the daughter of the president.
It's a distraction, and won't make things better for anyone.
Citations: Tiffany Trump Is Horrified by Negative Attention at Fashion Week Because of Her Father, Source Says (People)