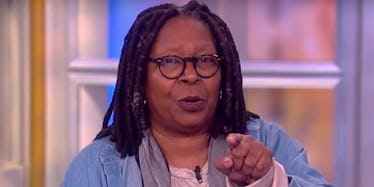 Whoopi Goldberg Will Sit Next To Tiffany Trump At NYFW Because No One Else Will
YouTube
Whoopi Goldberg is taking pity on Tiffany Trump after no one wanted to sit next to her at a New York Fashion Week show.
Photos circulated on Twitter of President Trump's 23-year-old daughter sitting by herself in the front row Philipp Plein show on February 13.
Editors of Elle magazine reportedly moved seats to avoid sitting next to the young Trump.
On Wednesday's episode of the "The View," Whoopi publicly declared her intention to take a seat next to Tiffany the next time she was at a show.
Whoopi said,
You know what, Tiffany, I'm supposed to go to a couple more shows. I don't know what's going to happen, but I'm coming to sit with you. Because nobody's talking politics. You're looking at fashion! She doesn't want to talk about her dad! She's looking at the fashion!
The 61-year-old comedian also went on to say she felt this seating issue was different than boycotting Ivanka Trump's product line. She said,
There's a difference. That's all about buying stuff. ... This girl is looking at fashion. She's just looking at fashion!
Whoopi did also clarify that while she would sit next to Tiffany, she really did not want to discuss President Trump with her at all.
Whoopi said,
I just thought it was mean. I don't want to talk about your dad, but girl, I will sit next to you. Cus I've been there... I'll find your ass and sit next to you.
Are we sure Whoopi's not auditioning for "Sister Act 3" right now? Because she's being charitable AF.
It should be noted Whoopi has been extremely outspoken against President Trump, including comparing his policy choices to those of the Taliban. So you can bet it wasn't easy for her to defend his daughter on national TV.
Tiffany, it seems, was grateful for the sisterly gesture.  She tweeted on Wednesday,
Thank you @WhoopiGoldberg I'd love to sit with you too!
And in that moment, a chill ran up Whoopi's spine as she realized she'd made a deal with the devil.
Just kidding. I respect Whoopi for being classy AF and taking one for the sisterhood.