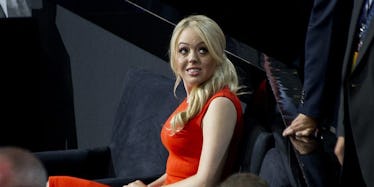 No One Wanted To Sit Next To Tiffany Trump At Fashion Week And We're Concerned
REX/Shutterstock
Tiffany Trump has been making the rounds at New York Fashion Week. But apparently, not everybody is completely happy about IT.
Tiffany, who is the daughter of President Donald Trump and his second wife, Marla Maples, was given a front-row seat at the Philipp Plein show in New York on February 13.
Trump is no stranger to the New York fashion scene. She has been counted among the members of young New York Instagram socialites. Tiffany herself has a strong following on Instagram, where she posts glam shots and pictures of her outfits at various events.
And so on Monday night, Plein invited her to his debut NYFW show.
This seemed to fit in with his theme, as the German designer had written in his show notes,
Make NYFW Great Again
Plein also seemed to be trying to stir up controversy with his show. His models included "hot felon" Jeremy Meeks, Desiigner, Fetty Wap, Pete Wentz of Fall Out Boy and others.
The show also started an hour late, apparently because Madonna got there late.
But, according to some attendees, Trump's attendance was causing some major problems as well.
Christina Binkley, formerly of the Wall Street Journal, tweeted photos showing Tiffany sitting by herself in the front row.
She added in a tweet:
Nobody wants to sit next to Tiffany Trump at Philipp Plein, so they moved and the seats by her are empty.
Alyssa Vingan Klein of Fashionista tweeted it was a "seating shitshow" because no editors wanted to sit next to Trump.
Nikki Ogunnaike of Elle appeared to corroborate Klein's tweet, saying that people moved down the hall to avoid Trump.
Klein said in her write-up of the show,
Tiffany Trump had a front-row seat as well, which led several editors to request to be moved and, in a couple of cases, leave altogether.
Celebrities are often piled together next to unexpected seat mates during fashion weeks, so it's extra surprising to hear about this apparent shunning of Trump.
But then again, the fashion world has not been particularly welcoming of the First Family — likely because Trump's policies hurt things that help the fashion industry, such as immigration, international relations and an increasing openness to all people.
Eventually, the show did start and Trump got to see the action.
So, too, did her Secret Service detail.
Binkley noted on TwitterTrump's Secret Service person said this was his first fashion show.
Binkley said, based on this experience, he was "going to get the wrong idea about fashion."
Citations: Move Over, Rat Pack and Brat Pack: Here Comes the Snap Pack (New York Times), Philipp Plein Embraced New York, Tiffany Trump, for Fall 2017 Show (Yahoo), Desiigner and Young Thug walk for Philipp Plein at NYFW as Tiffany Trump and Kylie Jenner look on (Mic), TWO MINUTES WITH 'HOT FELON' JEREMY MEEKS BACKSTAGE BEFORE HIS RUNWAY DEBUT (Fashionista)