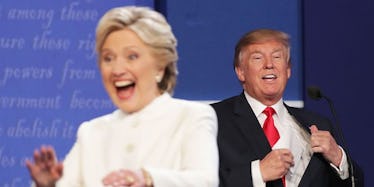 There's Video Of Hillary Clinton Running Away From "The Unwanted Trump Hug"
Getty Images
Update 2:15 p.m. ET:
Hillary Clinton responded to the video on Twitter, saying it made her "burst out laughing."
A video of Hillary Clinton jokingly running away from "the unwanted Trump hug" was posted on Twitter on Friday morning.
The video was posted by Philippe Reines, a Clinton surrogate who actually acted as Donald Trump during Clinton's mock debates to prepare for the real showdowns.
It shows Clinton and Reines joking around during one of those debate preps in late September. Clearly, Clinton wasn't just preparing talking points for the debates. She was preparing to counter Trump's overbearing body language.
In the video, Clinton and "Trump" are introduced to greet each other at the start of the "debate." As Reines reaches out his arms to grab her in a hug, Clinton pokes him in the stomach, raises an arm in victory and delightfully hops away.
You can see it all here:
Much has been made of Trump's physically overreaching greetings.
First, there was that super weird never-ending handshake with Japanese Prime Minister Shinzo Abe in February:
A few days later, there was Justin Trudeau's response to Trump's handshake:
And then, of course, there was Angela Merkel of Germany.
As many have noted, Trump uses his handshake as a sort of overpowering symbol of strength, maybe because of his rumored hand insecurity and generally hyper-masculine ego.
And now there's some gossip going around about Trump's overpowering hugs.
There is actually a reason Reines dropped the Clinton video on Twitter on Friday.
James Comey had to face some weird encounters with Trump before he was abruptly fired, according to a New York Times report published on Thursday evening.
"Comey said that as he was walking across the room he was determined that there wasn't going to be a hug," Benjamin Wittes, a friend of Comey, told the Times about a meeting early on in Trump's presidency.
Wittes continued,
It was bad enough there was going to be a handshake. And Comey has long arms so Comey said he pre-emptively reached out for a handshake and grabbed the president's hand. But Trump pulled him into an embrace and Comey didn't reciprocate. If you look at the video, it's one person shaking hands and another hugging.
Check it out for yourself:
Clinton was famously prepared for the fall presidential debates.
"You criticize me for preparing for this debate," Clinton said at the debate that happened just after the prep shown in the Twitter video.
Then, she went for the mic drop, saying,
And, yes, I did. Do you know what else I prepared for? I also prepared to be president.
However, America was not prepared for Clinton to be president, and here we are now.
Citations: The Man Who Became Donald Trump (Politico), The psychology behind Trump's awkward handshake – and how to beat him at his own game (Independent), Comey, Unsettled by Trump, Is Said to Have Wanted Him Kept at a Distance (New York Times), Hillary Clinton Defends Her Debate Preparations: 'I Also Prepared to Be President' (Fortune)