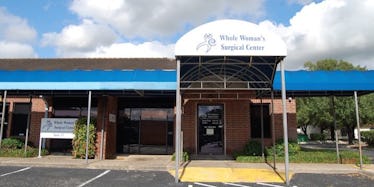 Texas Abortion Clinic Reopening Proves Fight For Reproductive Rights Isn't Over
A Whole Woman's Health abortion clinic in Texas is reopening four years after an unconstitutional law caused it to close.
This is a great sign for the rebuilding of abortion access in Texas since a restrictive law was ruled unconstitutional by the Supreme Court last summer.
House Bill 2 said clinics had to meet the requirements of an ambulatory surgical center and that providers had to have admitting privileges at hospitals. These terms are very difficult for clinics to fulfill, and would involve construction for many clinics.
After the law was put into effect, half of Texas's abortion clinics were forced to shut down. The number of clinics in the state dropped from 41 to 19 from 2013 to 2016.
But Whole Woman's Health fought the law, taking it to the Supreme Court.
Last June, the Supreme Court ruled Texas's law was unconstitutional. This was a cause for celebration for Whole Woman's Health and pro-choice women across the country.
The Supreme Court said the burdens on women clearly outweighed the health and safety benefits of the law. Ruth Bader Ginsburg wrote in a concurrence opinion,
Given those realities, it is beyond rational belief that H. B. 2 could genuinely protect the health of women, and certain that the law 'would simply make it more difficult for them to obtain abortions.'
Before the Supreme Court ruled, these clinic closures caused problems for women seeking abortions.
Many women had to travel further for abortions with local clinics closed -- and Texas is a big state.
Meanwhile, because there were fewer clinics, the remaining ones were experiencing long wait times for procedures. Delaying an abortion by a few days is significant as the pregnancy moves along.
Clinics can't just reopen with a snap of the fingers. It takes time and money for space, for rehiring staff, for setting up the medications and materials.
Andrea Ferrigno, Vice President of Whole Woman's Health, told Elite Daily last year before the decision,
The damage that these laws have caused, it's going to take years to repair.
In a statement on Thursday, Amy Hagstrom Miller, President and CEO of Whole Woman's Health, said she was committed to reopening the Austin clinic as soon as possible.
The Austin clinic was Whole Woman's Health flagship clinic.
Abortion advocates are celebrating the reopening of the Austin Whole Woman's Health clinic.
Greg Casar, a council member in Austin, said in a statement that "our community suffered a loss" when the clinic was forced to shut down.
With the reopening of the Austin Whole Woman's Health clinic, the residents of North Austin and beyond will have expanded access to safe, legal abortion care right here in our community.
Stephanie Toti, the attorney who argued for Whole Woman's Health in front of the Supreme Court, said,
Today's clinic reopening not only improves health care access for millions of Texas women, it shows the power of legal advocacy to move us toward a more just world.
This is great news for women in Texas, as it shows the clinics are recovering from the damage of the unconstitutional HB 2. With one more clinic open, the others will have less of a burden and more clients will be able to get responsible care.