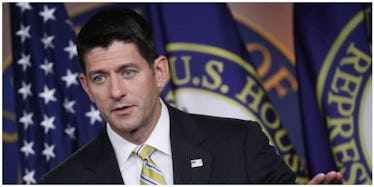 Surprising No One, GOP Leaders Hesitate To Investigate White Supremacy
Mark Wilson/Getty Images
GOP politicians scored political points this weekend when they condemned the actions of white supremacists and neo-Nazis in Charlottesville and President Donald Trump's refusal to denounce the far-right marchers. Everyone from House Speaker Paul Ryan to former presidential candidate Mitt Romney got in on the action, and even Texas Senator Ted Cruz had no problem condemning the hate on display. But these may just be words: Republican leaders are avoiding investigations into white supremacy, per a Politico report.
The House Judiciary Committee has no plans to hold hearings on the growing violence of white supremacists and neo-Nazis in the U.S., according to aides, despite the call to do so from House Democrats.
The calls for action came after an Aug. 12 white supremacist and neo-Nazi rally in Charlottesville, Virginia turned violent, and an attendee at the alt-right rally mowed down anti-racist counter-protesters, leaving one dead.
The House Homeland Security Committee will address the subject as part of a larger panel on global threats.
But many Democrats are worried that that it's not enough.
California Democratic Rep. Lou Correa told Politico, "Others think this is not an issue for Congress? I think it's front and center for us." He said that he would reach out to committee chair Michael McCaul, a Republican from Texas, about holding a separate hearing on white supremacy and domestic terrorism.
Speaker Ryan's office reportedly deferred questions on potential action to Majority Leader Kevin McCarthy. Ryan's office would not say whether or not he believes congressional action is warranted.
Senate Majority Leader Mitch McConnell's office reportedly said "that it's up to individual committee chairs to set their own hearing schedule."
This is not just a recent problem. New York Rep. Jerrod Nadler told Politico that Democrats have been trying unsuccessfully for months to request hearings on domestic terrorism.
The Charlottesville attack came only months after the Trump administration reportedly shifted a counter-terrorism unit's focus to just "Islamic extremism," despite continued warnings from U.S. intelligence agencies that far-right white supremacists are becoming increasingly more violent. And yet: Republican Congress members have been largely hesitant to act.
To be fair, not all GOP leaders have refused to commit to taking action.
Sen. Cruz is one of a small number of GOP politicians who has called for an investigation into domestic terrorism and white supremacist extremism. Attorney General Jeff Sessions has also condemned the attack which left one woman dead and approximately 19 others injured as domestic terrorism; he also said the Department of Justice is pursuing the case.
But that isn't enough for some, who see other politicians, such as Ryan and Romney, capitalize on such a horrific event by offering the equivalent of "thoughts and prayers" after a mass shooting or a terrorist attack.
It's sadly unsurprising that the same party that has passed gerrymandering laws that target minority voters; that supports building a border wall; and that is systematically dismantling the DOJ's civil rights division is coming up empty when it comes to investigating and attempting to dismantle white supremacy.
All talk, no action.