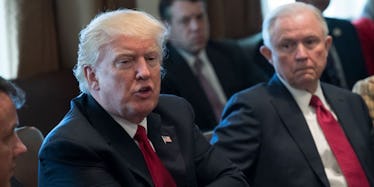 Trump's AG Says What He Won't, Calls Charlottesville Attack "Domestic Terrorism"
Shawn Thew-Pool/Getty Images
The Trump administration is struggling to come up with a unified response to the awful events in Charlottesville, Virginia caused by a massive rally organized by white nationalists. On Monday, Aug. 14, Attorney General Jeff Sessions struggled to defend President Donald Trump's controversial response to what transpired on Aug. 11 and 12 in Charlottesville. Sessions calls the Charlottesville attack "domestic terrorism," but President Donald Trump has not yet used such specific language.
While appearing on ABC's Good Morning America on Aug. 14, Sessions was questioned about a car that plowed into a group of people protesting white nationalists in Charlottesville on Saturday, Aug. 12. One person was killed and 19 were injured during this incident. Sessions said what occurred "does meet the definition of domestic terrorism in our statute." The attorney general added, "You can be sure we will charge and advance the investigation toward the most serious charges that can be brought because this is unequivocally an unacceptable evil attack."
Trump's response to Charlottesville has been widely condemned.
On Saturday, Aug. 12, during his initial response to the events in Charlottesville, Trump said, "We condemn in the strongest possible terms this egregious display of hatred, bigotry and violence, on many sides. On many sides." The president's use of the phrase "many sides" immediately led to broad criticism. Many clearly felt Trump did not go far enough in terms of specifically denouncing the hate groups that were present in Charlottesville, such as the Ku Klux Klan (KKK) and neo-Nazis. It also didn't help Trump walked out of the room as reporters questioned him about whether or not he accepted the support of the white supremacist groups that participated in the Charlottesville rally.
Following Trump's initial response to Charlottesville, the White House released an unattributed statement blaming white supremacists for the violence that led to one death, The New York Times reports. But this could be too little too late and it would also help if it came from the mouth of the president.
Trump has made a habit out of explicitly calling out groups or individuals that get on his bad side via Twitter -- including members of his own party -- but apparently he couldn't bring himself to directly condemn white nationalism. Instead of firmly telling the world he stands against people who believe you can be a proud American and a Nazi at the same time, Trump offered an ambiguous critique of a hateful rally that left a brave young woman dead. Even Sessions, who has a dubious past when it comes to racism and condemning the KKK, was willing to refer to what happened as terrorism before the president. Along these lines, you can hardly blame people for describing Trump's response to Charlottesville as exceptionally unpresidential and inadequate.
The vague nature of Trump's remarks actually led the neo-Nazi publication The Daily Stormer to praise what he said. "Trump's comments were good. He didn't attack us," the publication said. "Nothing specific against us."
Sessions attempted to defend Trump on a slew of morning shows on Aug. 14.
Sessions told CBS's This Morning on Aug. 14 people are making "too much out of" Trump's response to Charlottesville, but Charlie Rose pressed him on the president's lack of specificity.
It's evident many feel it's imperative for Trump to come out and fully condemn the hate groups involved in the tragic events in Charlottesville. But even if he does, a person's first response to something is arguably the most telling, in the sense it reveals who they truly are. With that said, Trump's reaction to Charlottesville will likely continue to hang over his presidency. The president had a chance to stand up to literal Nazis and he failed.