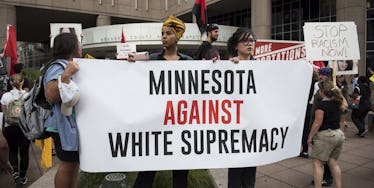 The FBI Warned About "Lethal" White Supremacist Attacks More Than 3 Months Ago
Stephen Maturen/Getty Images
When violence erupted at a white supremacist rally in Charlottesville, Virginia on Saturday, leaving one person dead, it was truly awful. But was it really surprising? Not to the FBI or the Department of Homeland Security (DHS), anyway. The two agencies issued an joint intelligence report warning about white supremacist attacks all the way back in May, according to a bulletin obtained by Foreign Policy.
The bulletin, titled "White Supremacist Extremism Poses Persistent Threat of Lethal Violence," and dated May 10, 2017, cites an expectation of "lethal" violence from white supremacists over the next year. It notes that in a 15 year period, white supremacists were responsible for 49 homicides, more than any other domestic extremist movement. It also terrifyingly — but unsurprisingly — notes that racial minorities are the primary target of white supremacists, with almost half of those killed being a racial minority.
And perhaps most crucially? The report notes that the most likely perpetrators of violence would be lone actors — like, say,  a man crashing a car into a crowd of people. It concluded,
We assess most WSE [White Supremacist Extremism] lethal violence over the next year very likely will derive from the capabilities of lone offenders or small cells, rather than the resources of larger groups, due to the decentralized and often disorganized status of the WSE movement.
The report, which was not meant to be public, was created to inform law enforcement, security partners, and counterterrorism efforts, according to the introduction.
Which begs a question: so what on earth was law enforcement doing in Charlottesville?
On Saturday, Aug. 12, violence broke out at a white supremacist rally in Charlottesville, VA. Though authorities said that they had planned for conflict, many criticized police for not getting involved during the violence. Reporters and witnesses said that police stood aside as factions sprayed chemical irritants, or hung up on people who called for police aid.
Charlottesville's mayor and police chief have both defended law enforcement response during the violence. "We had the single largest assembly of law enforcement officers since 9/11, almost 1,000 law enforcement personnel," Mayor Mike Signer told The Guardian.
But the day culminated in death — when an attendee of the white supremacist rally drove a car through a crowd of counter-protesters, killing a 32-year-old woman.
In the meantime, President Donald Trump for two days refused to acknowledge the role of white supremacy in the violence.
But possibly worst of all? The Trump administration is reportedly pulling funds from groups working to counter white supremacy.
In February, Reuters reported that the administration was rejiggering the Countering Violent Extremism (CVE) to focus solely on Islamic extremism, and Trump's 2018 budget proposed cutting the program entirely.
Life After Hate, one of the groups which had its funding cut under the CVE, told The Hill that they had planned to use the money to proactively help people leave white supremacist groups, and that if they had gotten the funds when promised the program could have been in action before Charlottesville.
"Whether or not we would have made a difference, it's impossible to know," co-founder Tony McAleer told the website.