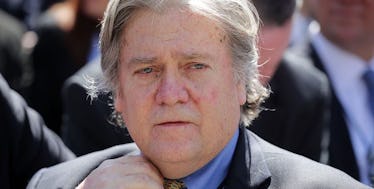 Steve Bannon's Response To This Question About Jared Kushner Is Super Sketchy
Chip Somodevilla/Getty Images
Steve Bannon, the erstwhile White House Chief Strategist, did his first-ever television interview on Sept. 10. Appearing on CBS News' 60 Minutes, Bannon spoke with interviewer Charlie Rose about a number of subjects, including Republican legislators, immigration, and the politics of White House staffing. But one thing that didn't make the cut for the broadcast version of the 60 Minutes interview? Bannon's comment about Jared Kushner and James Comey.
In a follow-up segment posted to CBS' website after the broadcast version, interviewer Rose asked Bannon expressly about his thoughts on President Donald Trump's firing of former FBI Director James Comey in early May, and who was involved in the decision— including the influence of Trump's son-in-law and Bannon rival, Jared Kushner.
ROSE: Were you in favor of [Comey] being fired? BANNON: It was reported in the media that I was adamantly opposed to that. I don't want to talk about private conversations. The media's reported that I was adamantly opposed to— ROSE: So in this case the media was right? BANNON: It was reported — I am a big believer in this city. That it's a city of institutions, not individuals. And I think you have to look at it as institutions. The FBI is an institution. ROSE: It's been reported that Jared Kushner was in favor of firing James Comey. Is that correct? BANNON: I have — you guys have to find that out either through the media or through the investigation. I don't know.
Bannon also weighed in on former Trump opponent Hillary Clinton, calling her "not very bright," which is quite a statement to make about a woman who attended two of the most prestigious schools in the United States, served as a U.S. Senator, and was appointed Secretary of State.
Of course, the Clinton bashing is nothing new. But the refusal to answer the question about Kushner is interesting.
For one thing, during Bannon's time in the White House the two senior advisers were reputed to be at odds, duking it out for influence over the president and "anonymously" leaking information meant to undermine each other to reporters. For another, it was reported shortly after Comey's termination that Kushner, along with Vice President Mike Pence, had been in favor of firing the former FBI director. So if he had confirmed, Bannon wouldn't have been saying anything we didn't already know. But with his refusal to say anything about Kushner's involvement it definitely feels like there's something up his sleeve.
Kushner wasn't the only one Bannon weighed in on.
The former chief strategist also took aim at Republican legislators who he said were undermining Trump's administration. "The Republican establishment is trying to nullify the 2016 election," he bemoaned.
He continued,
[It's] Mitch McConnell, and to a degree, Paul Ryan. They do not want Donald Trump's populist, economic nationalist agenda to be implemented. It's very obvious.
He also said he was "absolutely" going to war with establishment Republicans, despite no longer holding an official government position.
Bannon left his position as White House chief strategist in mid-August, and quickly returned to his former role as executive chairman of right-wing website Breitbart, which is known for its vitriolic rhetoric on the subjects of Islam, race, and immigration, among other things.
During Sunday's interview Bannon notably stated that he had left the White House intentionally, to carry on the fight outside the establishment.
I was a federal government employee. There are certain things you can't do. I cannot take the fight to who we have to take the fight to when I'm an advisor to the president as a federal government employee. You can't do it.
Bannon also weighed in on a number of other controversial subjects, including Trump's recent decision to end Deferred Action for Childhood Arrivals, or DACA. Bannon denied that America had been built by immigrants, saying that credit instead went to citizens. He also defended Trump against all criticism by his aides or allies, saying "when you side with him, you have to side with him." Bannon added that the infamous Billy Bush tape in which Trump was caught saying he can "grab [women] by the p*ssy" was a litmus test of loyalty for those close to Trump.
You can watch the whole interview on CBS' website, as well as the various overtime segments that didn't make the cut for the main show.