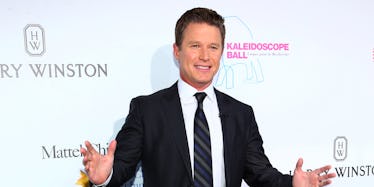 Billy Bush 'Embarassed And Ashamed' Over Released Trump Conversation
REX/Shutterstock
We recently reported how an audio conversation from 2005 between Republican presidential nominee Donald Trump and former "Access Hollywood" host Billy Bush was released, in which Trump made several sexist remarks.
To sum it all up, Trump said he could do anything he to women because he's a star, that he tried to "fuck" a married woman (who we now know to be Nancy O'Dell) and said that you can grab women "by the pussy."
This... This is the head of one of our nation's two major political parties and someone running for the highest office in the land.
Well, while Trump has since given a weak AF non-apology over this leaked convo, Billy Bush has finally responded to his involvement in this despicable video.
While Trump's comments were heinous, Billy also made some pretty nauseating remarks.
When the bus that the two were on while their mics were still live approached actress Arianne Zucker, Billy remarked,
Your girl's hot as shit, in the purple.
This prompted Trump to say,
Whoa! Whoa! I've gotta use some Tic Tacs, just in case I start kissing her. You know I'm automatically attracted to beautiful — I just start kissing them. It's like a magnet. Just kiss. I don't even wait. And when you're a star they let you do it. You can do anything…
This is just so disgusting.
After Trump made these uncomfortable and deplorable remarks basically promoting sexual assault, Bush's sole response was:
Whatever you want.
Ugh.
Billy had one chance to stand up for women and he basically agreed with Trump's belief that you can lay your hands on women whenever you want and that you are entitled to a woman's body.
In response to him receiving absolutely deserved flak for his complicit comments, Billy released the following apology to Variety, saying,
Obviously I'm embarrassed and ashamed. It's no excuse, but this happened eleven years ago — I was younger, less mature, and acted foolishly in playing along. I'm very sorry.
Yeah, no shit Sherlock. Also, Billy was around 33 years old when he made these remarks! WHY CAN'T YOU JUST TAKE FULL RESPONSIBILITY FOR YOUR SEXIST REMARKS?
You can't say something is "no excuse," and then offer it up as an excuse. This is not how apologies work.
Billy left "Access Hollywood" earlier this year and now is a host of the "TODAY" show.
We'll see how long that lasts.
Citations: Billy Bush Apologizes for Lewd Donald Trump Conversation: 'I'm Embarrassed & Ashamed' (Variety)