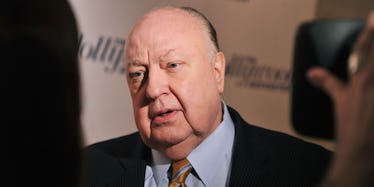 Status Of Sexual Harassment Lawsuits About Former Fox CEO Roger Ailes
Getty Images
Roger Ailes, the former CEO of Fox News, died on Thursday morning.
Ailes was accused of sexual harassment by a handful of women who worked at Fox News. Ailes denied the allegations, but they led to his resignation from Fox News in July 2016. 21st Century Fox founder and chairman Rupert Murdoch took over in his position.
Former Fox News anchor Gretchen Carlson sued him for sexual harassment last July. Her accusations were corroborated by several other female Fox News employees, including Megyn Kelly.
Fox settled the lawsuit in September with a $20 million payout for Carlson. While that sexual harassment lawsuit has been settled, there are apparently other pending cases at the network.
That lawsuit was filed with the New York Supreme Court.
She claimed that he told her to seek out "older, married, conservative men" because "they may stray but they always come back because they're loyal," according to USA Today.
Roginsky's lawsuit named Ailes and former Fox co-president Bill Shine. It says she was denied promotions after rejecting Ailes' advances. Shine was forced out of the company at the beginning of May.
Ailes' attorney, Susan Estrich, denied the allegations, saying Roginsky "wants to pile-on in a massive character assassination in order to achieve what she did not accomplish on the merits."
Ailes wasn't the only person accused of sexual harassment at Fox News.
Popular host Bill O'Reilly was accused of sexual harassment and inappropriate behavior by five women, according to the New York Times.
Fox News reportedly paid around $13 million to settle the cases quietly. When news got out in April, a wave of protests began, including companies pulling advertising from the channel. O'Reilly was dropped by Fox News soon after. He has denied the allegations.
The U.S. Justice Department was investigating the network this spring, according to CNN.
The investigation was originally reported in February. Then, it was allegedly focusing on allegations of sexual harassment by Ailes and subsequent settlements. It questioned if shareholders should have been told about the payments.
The federal investigation had since expanded in early May, according to the Wall Street Journal, to look into "alleged intimidation tactics at the network."
Fox News has not responded to a request for comment on the status of the cases from Elite Daily.
Citations: FOX SETTLES WITH GRETCHEN CARLSON FOR $20 MILLION—AND OFFERS AN UNPRECEDENTED APOLOGY (Vanity Fair), Former Fox News boss Roger Ailes hit with another sexual discrimination lawsuit (USA Today), With Fox News in Tumult, Another Executive, Bill Shine, Is Ousted (New York Times), Ailes denies allegations in Gretchen Carlson harassment suit as Fox News launches investigation (Fox News), Exclusive: Federal probe of Fox News expands (CNN), Scope of Federal Probe into Fox News Broadens (Wall Street Journal)