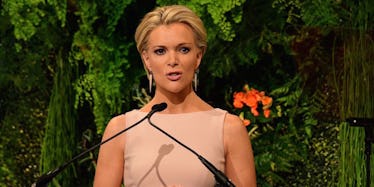 Megyn Kelly Allegedly Told Investigators She Was Also Harassed By FOX CEO
REX/Shutterstock
Roger Ailes, CEO of Fox News, has been publicly accused of sexually harassing a large number of his female employees.
Among those women was former Fox News host Gretchen Carlson, but Megyn Kelly, one of the most famous stars on the network, has been silent -- until now, that is.
According to two unnamed sources, Kelly has told investigators that 10 years ago, Ailes made unwanted sexual advances to her.
People are not taking Kelly's allegations lightly, especially the Murdochs, who own Fox. Rupert and his two sons, James and Lachlan, are now looking to get Ailes out.
Lawyers at 21st Century Fox are giving Ailes until August 1 to either resign or be fired for his actions. Ailes' legal team, on the other hand, have not responded yet. Apparently, former New York mayor Rudy Giuliani and even Donald Trump have weighed in on Ailes' situation, giving him advice about what move he should make next.
Still, Ailes has been publicly vocal about the allegations. He said he believes Kelly should be sticking up for the man who gave her the opportunity to work at Fox, not tearing him down.
At the time of the alleged advances against Kelly, she was a legal correspondent at Fox's Washington bureau. Eventually, she started hosting her own segments and making appearances on Bill O'Reilly's show and when 2010 came around, Ailes gave her a two-hour daytime show. Three years later, he made the decision to move her to the 9 pm slot, where she replaced Sean Hannity.
Despite Kelly staying silent, it's incredibly admirable she found the courage to speak up about Ailes' despicable actions.
In the meantime, lawyers are undergoing interviews with former Fox employees who also experienced sexual harassment but did not speak up because they signed settlements with Ailes' Fox attorney. Now, however, 21st Century Fox is removing those rules, allowing the women to speak up about what happened to them.
Citations: Sources: Megyn Kelly Told Murdoch Investigators That Roger Ailes Sexually Harassed Her (NY Mag)