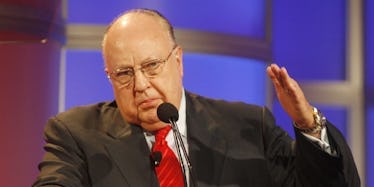 At Least 10 Other Women Came Forward Saying Fox CEO Sexually Harassed Them
REUTERS
Former Fox News anchor, Gretchen Carlson, recently pressed charges against Fox CEO Roger Ailes for claims of wrongful termination and sexual harassment.
Shortly following her decision to press charges, at least 10 other women have come forward to confirm Ailes' sexist and unacceptable behavior.
In an interview with the Huffington Post, one Fox News source who chose to remain anonymous, explained that people at the company thought that this lawsuit was a long time coming.
According to the source, Carlson's co-workers at Fox thought that it would happen after she was taken off popular morning show "Fox and Friends."
They believe she kept quiet at that time because he finally agreed to give her the afternoon show but apparently it was widely known that he openly hated her and told people that she was a "crazy, vindictive bitch."
A female Fox News contributor, who also asked to remain anonymous, has admitted that she has had an encounter with Ailes that echoed Carlson's one.
In a description of one of her meetings with the CEO, she tells the Huffington Post, "he asked me to turn around so he can see my ass."
Yet another anonymous Fox News employee came forward saying that she could only wear dresses on air. She also recounted a disturbing story that Ailes frequently told about his hiring process,
He always brags to people about how he doesn't do polling or testing when he chooses his on-air talent. He told me that if he was thinking of hiring a woman, he'd ask himself if he would fuck her and if he would, then he'd hire her to be on-camera.
Just hours following the announcement of Carlson's lawsuit, "at least 10 other women" have contacted her lawyer's firm to come forward about their own experiences with Ailes' alleged behavior, according to a spokesman for the firm.
In an official statement, Ailes vigorously denies the charges saying, "This defamatory lawsuit is not only offensive, it is wholly without merit and will be defended vigorously."
Citations: Fox News Sources: Gretchen Carlson Wasn't The First Roger Ailes Victim (Huffington Post)