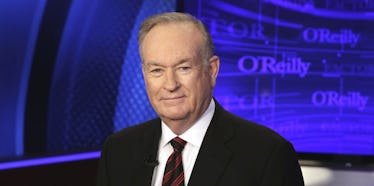 Bill O'Reilly's Ousting Suggests Money Is Louder Than Women's Voices At Fox News
Shutterstock
Bill O'Reilly is being dropped by Fox News after weeks of public outcry over allegations of sexual harassment, according to CNN.
But was it the women's claims of harassment that got O'Reilly dropped -- or the financial loss?
O'Reilly was accused of sexual harassment and inappropriate behavior by five women, the New York Times revealed at the beginning of April. O'Reilly has denied the allegations.
Rather than formally punish the popular TV host, Fox News paid around $13 million to settle the cases quietly, trying to ensure that word would not get out about the accusations.
That payout wasn't enough to get Fox to drop O'Reilly. That came later, when more long-term financial effects, and a mounting PR storm, set in.
Fox News's settlement plans didn't work, and the public learned of the multiple sexual harassment allegations against O'Reilly.
This led to major criticism of the network, including public protests and a lot of shouting on social media.
The outrage was especially pronounced as this is not the first time Fox News has faced a sexual harassment scandal. Last summer, former anchor Gretchen Carlson filed a lawsuit against CEO Roger Ailes for sexual harassment and wrongful termination.
More women came forward, and Ailes resigned in late July. Ailes denied the allegations.
Demonstrations against O'Reilly took place on the streets and on social media at #DropOReilly -- prompting advertisers to leave Fox News.
This action was largely led by Color of Change, who publicly pressured businesses to stop advertising on Fox News.
With the public pressure, over 50 companies, including Mercedes-Benz, BMW, Allstate, Bayer and GlaxoSmithKline, stopped advertising on Fox News after news of the sexual harassment claims were reported.
Now, Fox News is going to get rid of O'Reilly, despite his high ratings.
Fox News announced on Wednesday afternoon that O'Reilly would not be returning to the channel "after a thorough and careful review of the allegations."
He's on a conveniently timed vacation now in Italy, where he just met the Pope.
O'Reilly will not be returning.
Five women speaking out was not initially enough to move Fox News.
O'Reilly kept his job as allegations continued to surface.
Sexual harassment in the workplace is still a major issue -- and the safety of women is often at risk. According to the Huffington Post, one in three women experience sexual harassment in the workplace.
Until women are valued, situations like this will continue to occur.
But, as we saw, there are solutions if enough women work together to create a financial impact.
Money is a powerful force, but corporations aren't the only ones who can use it.
Citations: Sources: Fox News Has Decided Bill O'Reilly Has to Go (New York magazine), Bill O'Reilly Thrives at Fox News, Even as Harassment Settlements Add Up (New York Times), Bill O'Reilly's Future at Fox Grows Dim as the Murdochs' Support Erodes (New York Times), Fox losing more advertisers after sexual harassment claims against O'Reilly (Boston Globe), Bill O'Reilly Meets Pope Francis in Vatican V.I.P. Line (New York Times), 1 In 3 Women Has Been Sexually Harassed At Work, According To Survey (Huffington Post)