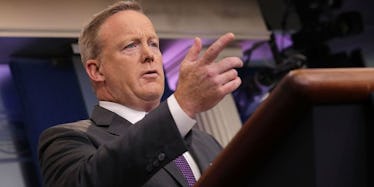 Here Are Some Sean Spicer Costume Ideas Because Walking Memes Need Representation Too
Chip Somodevilla / Getty Images
Sean Spicer may be out of the White House, where he served as press secretary and communications director, but the jokes will live on and on. As in, it will be difficult to see him again and not picture Melissa McCarthy screaming and chomping down on 9 million pieces of gum. If you're not quite sure what you want to be for Halloween this year, I would like to humbly present you with every single Sean Spicer costume idea there is – gaffes, weirdness, WTF moments, and all.
In his seven months working in the President Donald Trump White House, Spicer had more than enough memorable moments to last a lifetime -- or at least to last a handful of Halloween costume ideas. Just as Spicey made his mark, you can make your mark on Halloween with some of these memorable images.
Sean Spicer Reading To Children
Know how to make a slightly pained, out-of-place facial expression? Have a children's book on Easter? What about a friend who would be willing to dress up as a old-timey golf pro, and stand somewhat miserably next to you? Then you've nailed the Sean Spicer Reading To Children look. Side note: that kid is very cute and hopefully he was getting more out the story than meets the eye.
Sean Spicer As The Easter Bunny
Keeping with the holiday theme – can we please just relive when Spicer used to play the Easter Bunny during the White House's annual Easter Egg Roll? This is an EASILY doable costume, and will also keep you very warm. Plus, if someone figures out that you're doing Sean Spicer doing the Easter Bunny, marry them immediately.
Sean Spicer Hiding In The Bushes
Perhaps Spicer's biggest WTF moment happened in May, when he had a reported run-in with reporters from behind some bushes about Trump's controversial firing of FBI Director James Comey. Per The Washington Post, Spicer was hiding "in the darkness and among the bushes" near a group of reporters. Eventually, the reporters were told Spicer would talk to them, provided they didn't film him. Only then did he come out to talk.
Reports later came out that Spicer was frustrated with The Washington Post's characterization of him hiding in the bushes, with Politico reporting that Spicer said the Post "misstated the situation around our attempt to brief the press." That didn't stop the memes.
For this costume, you just need to bring along a large shrub. It will also be a very useful prop, in case you see someone at a party you don't really feel like chatting with.
Sean Spicer Accidentally Tweeting Out His Password
We don't know for sure... but there's a good chance that Spicer once accidentally tweeted out his password. You could probably go as him, with his password around your neck. Don't worry, he most certainly has changed it since then. I hope.
Melissa McCarthy As Sean Spicer
If you want to get a little meta, you should definitely do Melissa McCarthy doing Sean Spicer. That costume will involve a squirt gun, a moveable podium, so many pieces of chewing gum, and the ability to project.
Sean Spicer And The White House Press Corps
Want to do a group costume AND go on a furious power trip? Dress up as Spicer, get some of your best pals together as White House reporters, and spend the whole night yelling at each other. If they make some points you don't know how to dispute, just say #alternativefacts.
Sean Spicer And Rob Gronkowski
Remember when New England Patriots tight end Rob Gronkowski peaked into Spicer's press conference and asked if he needed any help? And then Spicer momentarily got very giddy and a little bashful and the whole interaction was just an overall gem?  Welp, that's a dynamic duo costume right there. It could also be a good chance to don an upside down pin – to really add some authenticity to the performance.
Whichever Spicer you pick, we hope you have a Spicey Halloween!