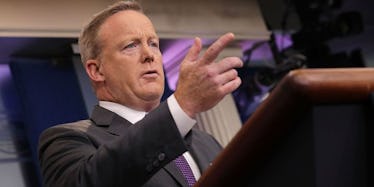 All The Best Memes About Sean Spicer Resigning As White House Press Secretary
After months of pressure in the White House, Sean Spicer has resigned as White House Press Secretary, the New York Times reports.
Spicer's final straw was reportedly President Donald Trump's decision to offer Anthony Scaramucci the communications director job.
UPDATE: Scaramucci has officially been confirmed as White House director of communications. Sarah Huckabee Sanders is now the press secretary, they confirmed during Friday's press briefing. Spicer will be staying on for a few more weeks.
EARLIER:
It would appear as though he's not the biggest fan of Scaramucci, a prominent Wall Street financier, and did not agree with the hiring decision.
According to the New York Times, President Trump offered Scaramucci the high-ranking job at 10 a.m. ET on Friday, July 21. Though he also welcomed Spicer to stay on in the communications department, we all know what Spicer inevitably said.
The former official was frequently the subject of ridicule from the public, and of course, some pretty hilarious memes and tweets have surfaced in the wake of his resignation.
Here are some of the best ones on Twitter... so far.
"Live footage of Sean Spicer shortly after resigning."
Sean Spicer: *backs away slowly from all Press Secretary duties*
Some can't wait to see Melissa McCarthy's rendition.
Others are anticipating a tell-all novel about working for this administration.
TrivWorks came through with an Ann Coulter versus Delta reference.
One person wondered if we can even believe Sean Spicer when he says he's done with the White House.
Meanwhile, journalists everywhere are like...
Everyone's wondering, "What's next for Spicer?"
Will he join forces with his former bosses's nemesis?
We want to know!
"I can't wait to see who's next."
In conclusion, it was a short run.
To be fair, being White House Press Secretary was one hard job Spicer set out to do.
Sometimes it's best to just take a cue from Kelly Clarkson's hit song and walk away.
Elite Daily reached out to the White House for information about the resignation and Spicer's reported dislike of Scaramucci, but did not hear back at publication time.