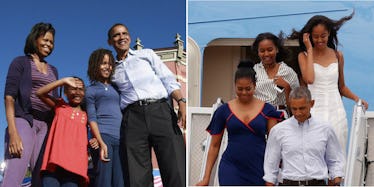 Before-And-After Pics Show How Much Sasha And Malia Obama Changed In 8 Years
REUTERS
Malia Obama was just 10 years old when her father, Barack, was elected president of the United States. Her sister, Sasha, was only 7.
Since 2008, we have watched these young women grow up under a massive public eye.
The sisters were under even harsher scrutiny as part of the first black family in the White House.
Although there have been some minor stumbles, like Malia being a typical teenager, the Obama sisters have been graceful and full of character — even through puberty, and even through strangers like my calling out their puberty.
The Obama presidency is coming to an end, and with it we are losing them as our First Family.
Malia will soon be off to Harvard University, while Barack and Michelle are staying in Washington, DC for Sasha to finish out high school.
We had a tearful goodbye with Obama's farewell address on January 10 (even if Sasha couldn't go), in which he said,
Under the strangest of circumstances you have become two amazing young women. You are smart and you are beautiful. But more importantly, you are kind and you are thoughtful and you are full of passion.
They've been through a lot over these past eight years.
Sasha and Malia helped get their father elected — twice.
Here's the family at the Democratic National Convention in 2008:
Sasha, Malia and Barack watched Michelle give a speech at the DNC in 2012:
They giddily watched Barack's two inaugurations.
In 2009:
And in 2013:
Sasha and Malia celebrated Christmases in the White House.
2009:
2010:
2011:
2012:
2013:
2014:
And rolled their eyes at their dad on Thanksgivings.
2009:
2010:
2012:
2013:
2014:
2015:
Sasha and Malia helped their parents host families at the White House for Easter.
2009:
2013:
When they first got to the White House, they were delighted to get their two dogs, Bo and Sunny.
And they happily enjoyed their new home.
It was an honor to watch these girls grow up in such an incredible, loving family.
Now go enjoy your (relative) freedom from the Secret Service, ladies!
We're looking forward to letting you grow up in peace.