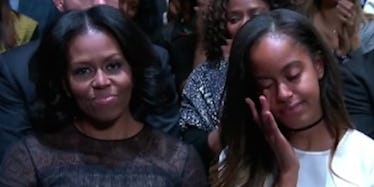 Obama's Emotional Tribute To Michelle In Farewell Speech Brought Malia To Tears
Twitter
President Obama delivered his farewell address in Chicago on Tuesday night, in which he once again displayed his gift of oratory.
In the speech, the president covered a wide array of issues, but perhaps the largest theme was the importance of embracing the role of citizen and playing an active part in America's democratic process.
The president said,
Our democracy is threatened whenever we take it for granted... It falls to each of us to be those anxious, jealous guardians of our democracy. Embrace the joyous task we have been given to continually try to improve this great nation of ours because, for all our outward differences, we in fact all share the same proud type, the most important office in a democracy, citizen. Citizen. So, you see, that's what our democracy demands. It needs you. Not just when there's an election, not just when you own narrow interest is at stake, but over the full span of a lifetime.
In many ways, Obama's farewell speech was a powerful tribute to the American people, of both the past and present.
I leave this stage tonight even more optimistic about this country than when we started.
But the most emotional moment of the address was not directed to the American people, but to the first lady.
Obama's tribute to Michelle brought him AND Malia to tears.
The president used the final moments of his speech to thank his wife, Michelle, and their daughters, Malia and Sasha, for how they've carried themselves throughout his tenure.
Speaking to Michelle while holding back tears, President Obama said,
Michelle... Michelle LaVaughn Robinson of the South Side... ... for the past 25 years you have not only been my wife and mother of my children, you have been my best friend. You took on a role you didn't ask for. And you made it your own with grace and with grit and with style, and good humor. You made the White House a place that belongs to everybody. And a new generation sets its sights higher because it has you as a role model. You have made me proud, and you have made the country proud.
As he spoke, Malia, who was sitting next to her mother, wiped tears from her face.
The president then told Malia and Sasha,
Under the strangest of circumstances you have become two amazing young women. You are smart and you are beautiful. But more importantly, you are kind and you are thoughtful and you are full of passion. And... you wore the burden of years in the spotlight so easily. Of all that I have done in my life, I am most proud to be your dad.
Regardless of your political leanings, it's hard to deny the president cares deeply about his family.
His love for Michelle and his daughters is genuine and admirable.
In a world where politicians are too often involved in scandals or caught having affairs, this has been a very refreshing aspect of Obama's time in office.
Moreover, it's difficult to disagree with his words about Michelle, Malia and Sasha. They've made our country very proud over the past eight years, and they will definitely be missed.
Watch President Obama's farewell address below.