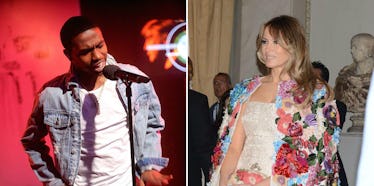 Rapper Protests Dolce And Gabbana Over Melania Trump Support During Runway Show
Brad Barket/Getty Images for MTV News / ORIETTA SCARDINO/EPA/REX/Shutterstock
Soulful, socially conscious Georgia-born rapper Raury caused a stir at the Dolce and Gabbana show in Milan this weekend.
The 21-year-old, who was hired as an "influencer" model for D&G, ripped off his sweatshirt and raised his fist, revealing the words, "Protest D&G" on his chest. Down his side read, "Give me freedom" and "I'm not your scapegoat."
He was quickly ushered off the stage by security.
Why? you may ask.
After catching heat for dressing First Lady Melania Trump -- in a $51,500 coat, mind you -- the designers at the eponymous fashion house whipped up $245 t-shirts reading, "#BOYCOTT DOLCE & GABBANA."
The mocking tone of the t-shirts did not sit well with the rapper, who was born in Stone Mountain, Georgia -- birthplace of the Ku Klux Klan. Raury later posted a picture of the protest on his Instagram and wrote:
I never felt so alone, so terrified, yet so alive... Found myself in tears when I realized the people understood, and I'm not just screaming in the dark anymore ... if ur in this industry remember that there is a god, and god protects the good... so do the work when aligned to. following my heart from this day forth knowing that I am living truth... If it ever means my end so be it. [...] The future is now.
In an interview with GQ, Raury said he wanted to make it clear that he does not support the Trump family, despite participating in the D&G show.
But why not just decide not to walk in the show? Raury -- who says he found out about the designers' very public connection to the Trumps the day before the show -- told GQ that he felt it was necessary to protest, rather than back out of the show.
"I felt like Dolce & Gabbana was literally trying to use the youth to wash their hands of any sort of heat from anyone who wants to protest against them," Raury said.
Raury explained to GQ why he felt it was important to disrupt the show:
Boycotting is the people's voice. A protest is the people's voice. It has power. It changes things. [...] I really felt this mockery of boycotting. Who knows, if boycotts didn't happen, if Rosa Parks and M.L.K. didn't step up…who knows if I would even exist. Boycotting matters. Boycotting is real. Dolce's entire campaign says it's not real.
The Italian designers are no strangers to controversy. In 2015, they came under fire for calling IVF children "synthetic" and insinuating that gay couples should not have families. Last year, they had to remove $2,400 "Slave Sandals" from their website for the shockingly tone deaf name.
And just this weekend, Stefano Gabbana got into an Instagram battle with Miley Cyrus over politics. The singer posted a congratulations on Instagram to her brother Braison, who walked in the D&G show this weekend and followed up the words of encouragement with, "PS D&G, I STRONGLY disagree with your politics."
Stefano Gabbana responded on Instagram: "We make dresses and if you think about doing politics with a post it's simply ignorant. We don't need your posts or comments so next time please ignore us!!"
He later wrote on another one of Cyrus's posts that the fashion house would no longer consider her brother for future jobs "for [her] stupid comment." It should be noted that the designer is 54 years old.