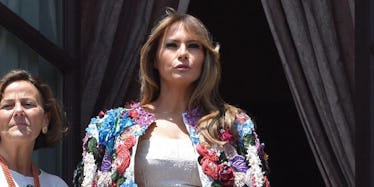 Melania Trump Haters Trolled By Dolce & Gabbana With "Boycott" Shirts
SCARDINO/EPA/REX/Shutterstock
President Donald Trump likes to portray himself as a man of the people, so when his wife, Melania Trump, recently wore a Dolce & Gabbana jacket that costs $51,500, it drew a lot of attention.
A lot of brands would likely to prefer to avoid becoming associated with anything related to politics, for fear of losing business.
Ivanka Trump's brand has run into trouble in this regard, and there's an entire boycott movement against it -- "Grab Your Wallet."
But Dolce & Gabbana seems to be embracing the association with the first lady -- and unapologetically.
Designer Stefano Gabbana is such a fan of Melania he's posted images of her wearing Dolce & Gabbana clothing on his Instagram several times.
He thanked the first lady for wearing D & G's garments.
The brand is also trolling anyone calling for people to boycott it with a $245 t-shirt, dubbed the "#BOYCOTTDOLCEGABBANA T-SHIRTS."
It's essentially the fashion world's version of a middle finger. In this case, Dolce & Gabbana is flipping off anyone who's mad Trump wears its clothes a lot.
Dolce & Gabbana also made a fake protest video to go along with its new Melania-inspired t-shirt.
The video is reminiscent of Kendall Jenner's controversial Pepsi ad, but seems to be more about mocking the protests against President Trump than an attempt to co-opt and capitalize off of anti-Trump sentiment.
There seem to be mixed reactions to Dolce & Gabbana trolling its haters.
At the same time, some just don't want to pay $245 for a t-shirt, which is fair enough.
The t-shirt costs about $100 less than the average monthly student loan payment in the U.S. ($351), so it's safe to say a lot of people probably can't afford it.
So, while some are attempting to avoid the Trumps at all costs in fear of losing profits, Dolce & Gabbana are taking the complete opposite approach.
Whether or not it will pay off remains to be seen.