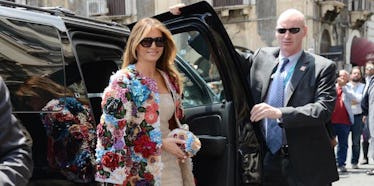 Melania Trump Wore A Jacket That Cost More Than Your College Tuition In Italy
SCARDINO/EPA/REX/Shutterstock
Melania Trump stepped out in Sicily on Friday wearing a stunning floral jacket.
And there's good reason the jacket was so gorgeous -- it costs a small fortune.
The jacket, which is by Dolce & Gabbana, costs $51,500.
Trump is in Sicily with her husband, Donald, as he attends the G7 summit alongside other foreign leaders including United Kingdom Prime Minister Theresa May, newly elected President Emmanuel Macron of France, and Canadian Prime Minister Justin Trudeau.
This marks the end of the president's first foreign trip, which included stops in Brussels, the Vatican, Israel and Saudi Arabia.
Trump wore the Dolce jacket while meeting with the other spouses of the foreign leaders.
This is far from the first time the first lady has worn Dolce & Gabbana in her official capacity with the White House.
She also wore D&G in her official White House portrait, as well as at a dinner at Mar-a-Lago.
Stefano Gabbana, for his part, is more than happy to dress Trump, although some other high fashion designers have said that they will refuse to dress her.
This includes Zac Posen, who said the Trump administration's stance on "LGBT rights, immigration, funding for the arts, Planned Parenthood, and women's rights" keep him from planning to dress any member of the first family.
Gabbana posted a series of images of Trump wearing the designer's jacket on Instagram, thanking her for wearing it. A majority of the comments praised the design of the jacket and Gabbana's support of the first lady.
Unfortunately, if you had a spare $50k sitting around, the jacket is already sold out, according to Mashable.
The spouses of politicians are often criticized for the cost of their clothes, whether it was paid for by themselves or not.
Michelle Obama, for instance, was routinely criticized for wearing expensive clothing, such as a Marchesa gown at the White House Correspondents' Dinner in 2014.
This criticism came despite that taxpayer money did not go to the clothing.
Daughters Sasha and Malia Obama were also not immune to this baseless criticism when they wore beautiful Naeem Khan gowns to a state dinner last year.
Meanwhile, Ann Romney, wife of Mitt, was skewered in 2012 for wearing a $990 blouse on TV during the election.
The Trumps' foreign trip ends this weekend.
Citations: Melania Trump wore a chill $51,500 jacket covered in flowers to meet G7 spouses (Mashable), People, Here's the Growing List of Designers Who Refuse to Dress Melania Trump (Marie Claire), First Lady Michelle Obama's fabulous clothes: Who pays the bills? (New York Daily News)