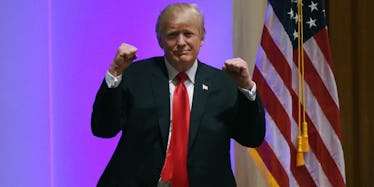 This Organization Renting Trump's Childhood Home For Refugees Is The Best Burn
Olivier Douliery-Pool/ Getty Images
Donald Trump might be taking a strong stand against an influx of refugees entering the United States – but that doesn't mean he can stop them from spending the night at his Queens, NY childhood home. Refugees from Syria, Somalia, and Vietnam had a sleepover at the president's former home this weekend – with one visitor even sleeping in what is believed to be Trump's childhood bedroom.  Oxfam rented Trump's house for refugees to hang out on Sept. 16, pose for photographs, tell their stories, and send a strong, pointed message to the president. It was also a pretty clever, ironic burn, so sending major snaps to Oxfam on that. 
A large "Refugees Are Welcome" sign was unfurled in front of Trump's former house on the same day that a group of refugees gathered together in the three-story, Tudor-style home. They placed their personal items, like coffee cups, serving trays, and children's toys, around Trump's childhood bedroom, and talked to Oxfam about their experiences living in war-torn countries. 
Shannon Scribner, Oxfam America's director for humanitarian programs and policy, explained that the organization chose Trump's former home as a backdrop because they wanted to emphasize that all refugees deserve a safe haven – regardless of their religion or country or origin. She said,
Oxfam hosted refugees at President Trump's childhood home to declare that all people, refugees included, have the right to a safe place to call home. What makes America great is our diversity of experiences, ideas, talents, and the opportunity for anyone to succeed. What better place to represent that than the former home of the President of the United States in Queens, NY – one of the most diverse communities in the world. Lives are hanging in the balance while we wait to see if President Trump and other world leaders will fulfill their duty to uphold the rights of refugees and other displaced people.
Donald Trump's childhood home was listed on AirBnB in August for a whopping $725 per night. The listing also detailed the following TMI descriptor: "In this bedroom, President Donald J. Trump was likely conceived, by his parents, Fred and Mary Trump," reads a framed sign in one bedroom. "The world has never been the same."
The photo shoot couldn't have taken place at a more trying time for United States immigration.
In October, Trump will determine what the refugee cap will be for 2018. As of July, the U.S. had hit its maximum admittance of 50,000 refugees into the country, a number set forth by the president. That figure is 41% lower than the 85,000 refugees admitted into the country during Barack Obama's last year in office. According to a report from the UN in July, the number of refugees worldwide has hit a staggering 65.5 million. In Syria, more than 11 million people — that's half of the country's pre-war population – have been killed or forced to leave their homes. 
And while Trump may play it fast and loose with that whole "bad hombres" catchphrase, according to the American Immigration Council the tens of thousands of women and children who are fleeing Central America are often victims of crime. The regions they're escaping from hold some of the world's highest rates of homicide and gang violence, the Migration Policy Institute reported.
The Supreme Court will also be hearing arguments in October regarding Trump's controversial travel ban, which, the president tweeted on Sept. 15, would be "larger, tougher, and more specific." His tweet came in response to a bombing that occurred on a London Underground passenger rail on Sept. 15.
Back in January, Trump attempted to pass an executive order that would keep refugees from entering the United States for 120 days and would halt immigration from several predominantly Muslim countries for three months. That order was temporarily shut down after Honolulu's U.S. District Judge Derrick Watson ruled that the ban was "unduly restrictive."
Meanwhile, refugees told Oxfam that they're saddened by this new shift in perspective on immigration. Uyen Nguyen, who left Vietnam when he was 10 years old, said,
By the time my brother and I arrived in the refugee camp, we had already lost our Mom, younger brother and little sister. They all passed away on the boat journey. After spending a year and a half in a refugee camp, we finally came to America and were greeted with such warmth and open arms by a diverse community in Southern California. With this administration, it feels like new immigrants aren't given the same warm welcome. I have never talked much about my journey, but I now feel it's my responsibility to spread understanding of what it's like for refugees – and hopefully open the doors for those who need our support the most.
Here's hoping that Trump understands the message that Oxfam is trying to send. Or, at the very least, understands the pure, brilliant irony of their location choice.