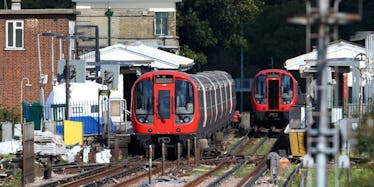 A Terrorist Attack Happened In London, And This Is What We Know
Jack Taylor/Getty Images
On Friday morning, Sept. 15, at 8:20 a.m. local time, a crude bomb exploded on an underground passenger rail in London, injuring 22 people, the New York Times reports. According to news outlets, the explosive device detonated on an eastbound District Line train as it left the Parson Green station in Southwest London. The BBC reports the incident is being treated as terrorism.
Reports suggest that the device on London's tube was on a timer, and a BBC security correspondent said the incident could have been much more lethal, as it appears that the bomb might have not functioned as planned. Photos of the scene shared on social media showed a white plastic bucket in flames encased in a plastic handled shopping bag.
The BBC quotes Assistant Commissioner Mark Rowley, who said of the incident,
This was a detonation of an improvised explosive device. The scene currently remains cordoned off and the investigation continues... Londoners can expect to see an enhanced police presence, particularly across the transport system across the day.
Twenty-two people were sent to the hospital at least, and the BBC adds that most of the patients are being treated for burns. The England National Health Service report shows that patients are being treated at the following health centers: Imperial, Chelsea and Westminster, Guy's and St. Thomas' and Central London Community Healthcare Walk In Center. A total of 18 people were taken via ambulance and four others arrived on their own to the hospitals.
The Independent reports that stampeding, as passengers fled the train in panic, contributed to the injuries. According to passenger Richard Aylmer-Hall, some people were "pushed over and trampled" during the chaotic scene. Residents within 50 meters of the site were reportedly evacuated as officials contained the remnants of the explosive.
Prime Minister Theresa May tweeted out a message of condolence on the incident:
My thoughts are with those injured at Parsons Green and emergency services who are responding bravely to this terrorist incident.
Many people, including British officials, were less than pleased with President Donald Trump's immediate reaction to the incident on social media in which he called the attackers "sick and demented."
Trump also made comments on the incident to reporters at the White House Rose Garden, saying,
It's a terrible thing. This keeps going and going, and we have to be very smart, we have to be very, very tough. Which, perhaps, we're not nearly tough enough. But that is just an absolutely terrible thing.
Friday's attack comes as the latest in a slew of harrowing terrorism incidents for Londoners in recent months. In March, a man wielding a knife plowed through Westminster Bridge, killing at least four and injuring at least 40. An attack at an Ariana Grande concert in Manchester in May took the lives of nearly two dozen and injured scores. The following month in London, seven died after three men in a van moved down pedestrians on London Bridge and proceeded to stab others in Borough Market; just a couple weeks after that, a man drove his van into pedestrians near a mosque in the city.
In response to this latest attack, there appears to be an outpouring of support for Londoners.
According to the BBC, London officials had not released information as to whether anyone had been arrested in connection with the incident. Officials were debating whether to raise the national terrorism threat level from "severe" (second-highest) to "critical," indicating an attack would be imminent.
As of 10 a.m. ET, CNN reported that the Prime Minister would not be raising the threat level, adding,
The public should go about their daily lives, but remain vigilant[.] ... The threat of terrorism that we face is severe, but by working together we will defeat them.
The BBC says a manhunt is underway to find the perpetrator, with hundreds of detectives involved.