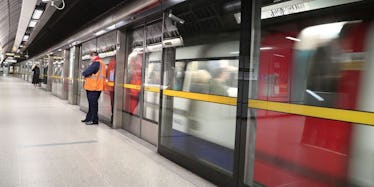 A Terror Incident Happened In London And Donald Trump Had The Strangest Response
Gareth Fuller - PA Images/ Getty Images
On Friday, Sept. 16, an underground blast in Britain caused injuries to at least 22 people. Soon after, President Donald Trump addressed the event via his Twitter account. In a series of posts, Trump's response to the London terror incident implied that U.K. authorities were not acting "proactive" in trying to prevent terror, while also touting the potential of travel bans.
Trump wrote,
Another attack in London by a loser terrorist.These are sick and demented people who were in the sights of Scotland Yard. Must be proactive!
The reference of "Scotland Yard" is a clear allusion to the headquarters of London's Metropolitan Police.
Shortly after Trump responded to the attack in London, the former chief of staff for current U.K. Prime Minister Theresa May, Nick Timothy, labelled Trump's comments unhelpful.
Timothy wrote,
True or not - and I'm sure he doesn't know - this is so unhelpful from leader of our ally and intelligence partner.
At the time Trump sent the tweets, no suspects had been arrested in connection to the incident, despite the president mentioned "people who were in the sights of Scotland Yard."
Trump also went on to say that the "travel ban" should be larger than it already is, writing,
The travel ban into the United States should be far larger, tougher and more specific-but stupidly, that would not be politically correct!
On Monday, Trump's administration scored a key legal victory related to his travel ban when the Supreme Court granted a temporary stay of the ban's effect on a group of around 24,000 refugees.
Here's what the president had to say in full:
After Trump asserted that his administration has done more to fight ISIS than former President Barack Obama's administration had in eight years, CNN's Jake Tapper was quick to point out that ISIS, in its current form, did not exist eight years ago.
What happened in London?
On Friday morning, an explosive device was detonated on a London Underground train at the city's Parsons Green station.
A passenger on the train, 42-year-old Natalie Belford, told the New York Times,
The train was packed, and I was down the other side of the carriage standing up, looking at my phone and then I heard a big boom and felt this heat on my face. I ran for my life, but there was no way out. The doors were full of people and the carriage was too packed to move down.
The Times reports that at least 22 people were hospitalized, but none were suffering life-threatening injuries. Meanwhile, London Metropolitan police assistant commissioner Mark Rowley told reporters that most of the injuries were "flash burns."
According to BBC, the explosive device had a timer, but "may have partially failed," which could explain why the attack was not worse. As emergency responders reacted to the incident, a number of under ground train services in London were suspended, the Evening Standard reports.
British leaders have since commented on the incident. Prime Minister May tweeted,
My thoughts are with those injured at Parsons Green and emergency services who are responding bravely to this terrorist incident.
London mayor Sadiq Khan, for his part, said London "will never be intimidated or defeated by terrorism."
Khan also added,
I am in close contact with the Metropolitan Police, Transport for London, Government and other emergency services who are responding at the scene and leading the investigation.
The mayor's statement confirmed that the incident at Parsons Green is being investigated as a terror attack, which makes it the fourth that the U.K. has seen this year. President Trump, meanwhile, made his thoughts on that terror attack clear.