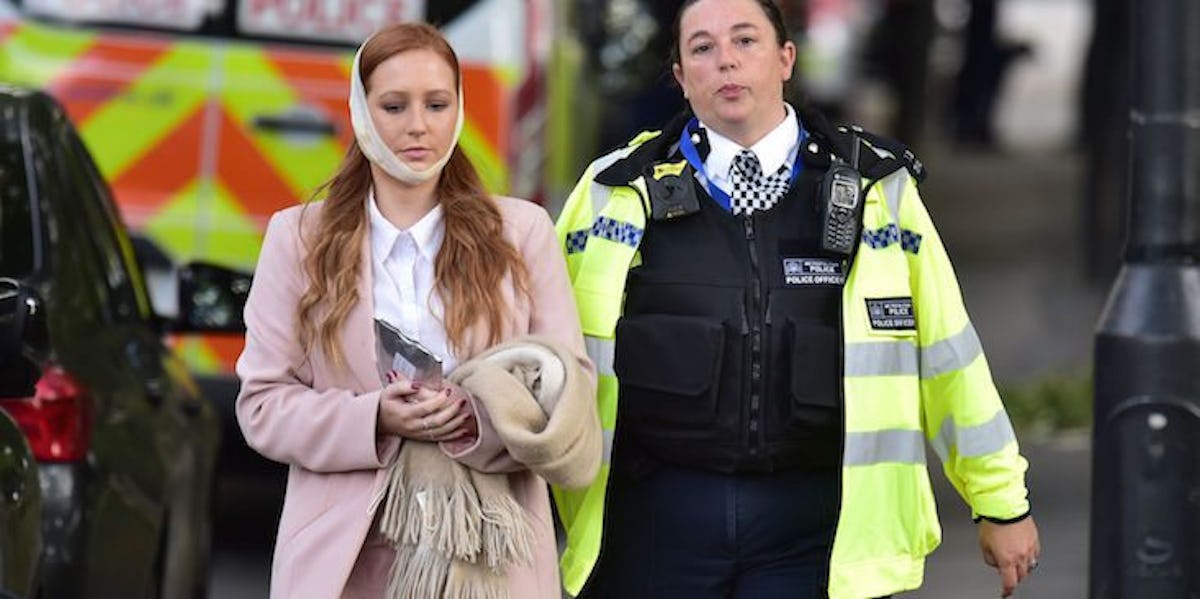 Emotional Tweets About The London Tube Blast Show People Coming Together
Dominic Lipinski - PA Images/ Getty Images
Commuters in London were taken aback on Friday, Sept. 15 when an explosive device, reportedly on a timer, exploded on a London tube train. The train was at Parsons Green Station in southwest London at the time of the blast, and at least 22 people were hospitalized, according to The New York Times. Once news of the incident hit the internet, support for London came flowing in online with emotional tweets about the London blast.
According to CNN, the explosive device went off during Friday morning's rush hour. The blast is currently being investigated as a terrorist incident, and a manhunt is underway. As that operation moves forward, many people took to the web to let London know that they are loved, and that the city and its people are in everyone's thoughts.
When it seems like these types of incidents are becoming increasingly more common, it can be difficult to make sense of it all. There is the question of what needs to happen to make sure that terrorists are stopped for good, and while that answer is not totally clear yet, it is good to see that there is no shortage of support and solidarity for those affected by such devastating and hateful actions.
Support for London immediately began pouring out.
In times like these, it's important for people to come together.
The blast inspired a call to action to overcome violence and hate.
London turns to loving and supporting one another in this time of need.
Overcoming hate and violence appears to be at the top of the agenda.
Some Londoners did not understand the tweet and failed to see it as a show of support for the city in this time of need.
According to CNN, London Mayor Sadiq Khan responded with the following,
What I do know is there are many Americans in London who love London, there are many Americans – not just Americans but others around the world, who stand shoulder to shoulder with London and with Londoners to make sure that we stand together against these terrorists, these are evil and cowardly individuals who want to divide us and disrupt our way of live. As the major of London I can say this and I can speak for Londoners -- we are not going to allow them to do so.
Mayor Sadiq Khan had more words of encouragement for London.
As he condemns the cowardly actions of terrorists, Khan also praises the people of London, paramedics, fire services, and police services as they came together to help the injured and protect the city.
There are reports of how the London police have reacted to Trump's tweet.
New information will continue to roll in by the minute, and it is important not to speculate before all of the facts. London police are working hard to determine the cause and the culprit, and while it may seem clear that it is likely a terror incident, calling it so prematurely is detrimental to their investigation.
There are continued efforts to find out who is responsible for the blast.
There are reports coming in that the detonator was supposed to ignite a larger explosion, and the London police are still searching for the person, or people, responsible for the blast.
As the investigation continues, the support will keep rolling in for the city and those affected by the bombing. As sad as it is that this city has to deal with yet another presumed terror attack, London will continue to stay strong and come together to get through it.
Stay safe, London. We are all thinking of you.