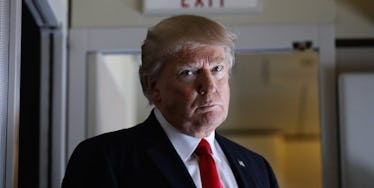 These Offensive Trump-Themed Valentines Will Make You Happy To Be Single
REUTERS
People are sharing politically incorrect Donald Trump-themed valentines on social media, and you should count yourself lucky if you're single.
These "so-called" valentines are the antithesis of romance.
With that being said, Trump is probably the least romantic president of our era, and he also hates political correctness, so this is all fair.
Not to mention, Trump is spending his Valentine's Day trying to clean up the mess surrounding the resignation of his national security adviser, Michael Flynn.
Things aren't going so well right now, America!
So, we all deserve a good laugh. Comedy is our only real relief during times like these. (But, we still apologize ahead of time if you find these valentines offensive. The internet did this. Don't shoot the (Valentine's Day) messenger.)
We wouldn't recommend sending these to anyone you actually love, unless they have a really twisted sense of humor.
In the words (or word) of President Trump, a lot of these are just plain "WRONG."
Nothing says "I love you" like "I wouldn't deport you."
This definitely constitutes an abuse of power.
Well, this isn't creepy at all.
OK, this is at least a decent play on words. Nicely done. It's Putin the other valentines to shame (ba-dum-ch).
This is wrong on so many levels.
This one is actually clever. Well played. For the record, Trump actually loves the word "BING."
LOL. OK, this is actually kind of funny (here's the tweet it references, for context).
But, apparently, it might pay for dinner (we have not yet asked Mexican President Enrique Peña Nieto to confirm).
Kellyanne Conway and Trump have such an admirable relationship and they always tell the truth. #AlternativeFacts
Donald + Vladimir = BFFs
Happy Valentine's Day?